Perforated Metal Styles
Perforated Materials:
Perforated Metal Products
Technical Terms:
Other Sheet Metals
Processing Machines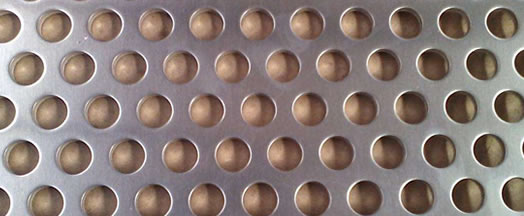 Perforated Metal Sheet for Power Plant Main Steam Strainers, Metal Screen Cylinder to Remove Solid Particles from Steam Supply
Perforated stainless steel offers great strength and rigidity in making of metal basket strainers for power plant construction. We supply perforated sheets processed filter elements in both standard and customized sizes for turbine protection. The large holes metal steel cylinder / grid is designed to remove solid particles from the steam supply. It can prevent foreign materials from the steam supply system.

Round Hole Perforated Plates for High Pressure Steam Strainer Casing
Staggered Perforated Plate in Stainless Steel 316L is supplied with the following specifications:
- Material: Stainless 316L, 12mm tri pitch, ASTM 240 316L Grade
- Metal sheets of 4'x8'x8mm thickness
- Hole Diameter : 8 mm
- Pitch : 12 mm
- Pattern: Round opening, staggered
- Angle : 60 deg.
- Holes: 4 x 20 mm diameter 30° off center line
- Designed differential pressure: 1.5 bar
- Structure: Sheet rolled to od 697.2mm
- The sheet: solid unperforated at 20-25 mm from 22 mm plate
Benefit:
Reduce levels of contamination
Enable high efficiency steam strainers for better quality steam.
GEOTHERMAL POWER PLANT STEAM STRAINER BASKET STRUCTURES:
Large Holes Punched Screen in ASTM 240 316L Grade for Turbine Protection Sleeves