Perforated Metal Styles
Perforated Materials:
Perforated Metal Products
Technical Terms:
Other Sheet Metals
Processing Machines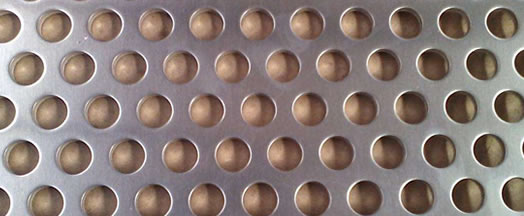 Perforated Metal Sound Absorbing Wall Panels
We supply aluminum, galvanized steel and SUS 304 punch plate panels used for construction sites, projects and highways to control noises and sound pollution. Unlike acoustic screens mainly for indoor decoration and sound absorbing, this noise barrier is mainly used for outdoor noise control and safety uses.
Two types according to panel forms: Shutter type checkered plate barrier and flat sheet perforated panel. They can be composed with filling materials.
Three types according to materials: Aluminum, Steel Galvanized or Hot Dipped, Corrosive Resistant Stainless Steel SUS304 or 316 Grade.
Highway Safety Guard Rail Noise Control Panels: Guard Rail Beams plus Sound Barrier Panel Composite System
The perforated metal sheet together with galvanized steel beams to make up the whole guard rail barrier system for highway and bridges. Also called sound absorption wall panels, mainly used for freeways, high-speed railway and MRTS.
First Part: Perforated Panels for Sound Control:
Metal type: Galvanized metal sheet, aluminum sheet.
Waterproof :Resistant to deformation in wet environments
Sound proof;
Strength: Bendable and impact resistant;
Temperature Maintenance;
Environmental Friendly;
Installation: Easy to cut, saw, nail, paint and veneer.

Sound barrier Panel thickness: 80mm, 100mm,120mm
Size: 2500x500x80mm, 2500x500x100mm, etc.
Metal plate thickness: 0.5-1.2mm
H-post: 100x100x6x8mm, 125x125x6.5x9mm, 150x150x7x10mm, 175x175x7.5x11mm.
Flange plate: 250x250x10, 300x300x10, 350x350x10, 400x400x10mm etc.
Second Part: Three or Two Wave Steel Beams for Traffic Control
Steel Plate Thickness: 3.0mm or as required
Wave height: 85mm
Width: 310mm
Length: 4320mm or as required
Zinc coated: 350-600g/m2
Technique: Cold rolled material, and hot dip galvanized, spraying plastics
Accessories:
1. Post: U post, C post, Sigma Post, Circle Post, with flange or not
2. Spacer (Blocker): U shape. C shape.etc.
3. Bolt and nuts: M16x35, 40,45,50,150, 170
4. Terminal ends: fishtail, and bull nose.
5. Reflector
Temporary Sound Control Panels
We supply temporary noise barriers / attenuators for various commercial buildings, construction projects and installation projects. The metal panels can be used around the sites to suppress the construction noise and bring it down to acceptable levels.
Our perforated aluminum and steel panels are used for drilling trucks in air conditioning projects, based in urban or residential areas where noise coming from the drilling rig can be a major cause of sound pollution.
Perforated Metal Sound Insulation Noise Barrier for Public and Civil City Construction Projects
Perforated noise panels of metal sheets for European market have a standard height of 2000 mm, sheet thickness of 120 mm and the absorption can reach 28dB (B3).
Sound barrier metal walls have following popular sizes:
Length: 2000mm-4000mm
Width: 500mm-1000mm
Thickness: 70mm-100mm
Inner material: sponge or glass fiber
Features:
1) High light transmission: Up to 88% that of same thickness of general glass.
2) Excellent impact resistance: 80 times that of glass.
3) Weather and UV resistant: Temperature resistance range is -40º C ~ +120º C, with an ultraviolet coextruded film on the sheet surface. It can prevent the resin fatigue or yellowing caused by the ultraviolet.
4) Light weight: Only 1/12 of the weight of glass of the same thickness. It can be easily cold bent as well as thermal shaping.
5) Flame resistance: High fire performance rating is class B1.
6) Sound and heat insulation: Superb sound insulation and super thermal insulation.
7) Outstanding physical, mechanical, electrical and heat capabilities.
Uses: Building industry, construction projects and machinery industries, sky light system, safety panels.