Perforated Metal Styles
Perforated Materials:
Perforated Metal Products
Technical Terms:
Other Sheet Metals
Processing Machines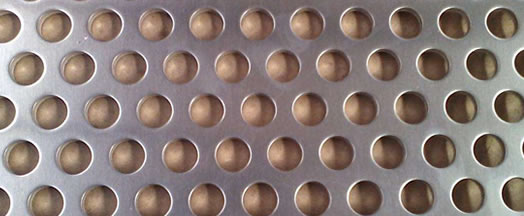 Decorative Mesh Perforated in Steel and Aluminum Materials
We supply metal mesh perforated in various materials, sizes, decorative holes used in modern architectures and buildings. The perforated mesh has one-off rigid structure and multi-designs suitable for various decoration demands.
Materials: SS, MS, alum, brass, copper, nickel, silver, titanium and special alloy.
Designs: Round, Square opening, Hex opening, Oblong, Slot, Triangle, Semi circle, Cross, Combined, Special.

Metal steel perforated plates, available in round hole staggered, square hole and various designs, for roofing, furniture decoration

Aluminium perforated sheet for ceiling interior design

Building exterior decoration stainless steel mesh perforated, round hole design, non-magnetic, type 304 or 316.
Tolerance in the size of the sheet metal + /-5mm
Sizes of perforated sheets in stainless steel 304: 500x500mm, 1000x500mm

SS Perforated Sheet for exterior wall cladding, hole shape: square hole
Black powder coating optional
Specifications: L 950 mm X W 675 mm X 6 mm thk (with square hole 6mmx6mm)
Screen plate, sus304, square shape design
Diameter hole:6.5mm

Aluminum perforated panels in round mesh holes for exterior design, to clad the front facade of the build portions with aluminium rain screen
Specification: Perforated aluminum sheet, 16 gauge, with approx. 5/8 x 5/8" square openings
Mesh options: Aluminium sheeting with circular, square & slotted lozenge patterns available

Modular stainless steel perforated metal sheets for both decoration and sun shading screen uses

SS 316 corrugated perforated metal panels sheets for department stores façade cladding design

Perforated metals powder coated in decorative colors, for window grid, vent screen, ducting sheet and louvers

Stainless steel mesh punched in slot hole for exterior sun screening