Perforated Metal Styles
Perforated Materials:
Perforated Metal Products
Technical Terms:
Other Sheet Metals
Processing Machines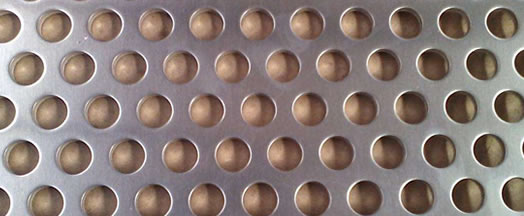 Perforated Copper Sheets, Copper Mesh Grilles, Decorative Copper Mesh Cladding Panels
Hengda offers a variety of decorative metal sheets perforated for decoration in a variety of materials and openings. The copper and brass sheets are mostly used for interior wall decoration with beautiful and warm color and a feeling of nobleness.
Copper and brass perforated sheets are also known as perforated decorative grilles when it is used in building decoration. With the aesthetic effect in the material, different styles of decorative designs, perforated copper / brass / bronze sheets have become the favor of modern architectural designers in making of metal draperies, curtains and cladding panels.
Copper is a pure metal, brass is copper and zinc alloy, bronze is a copper + tin alloy. We offer copper sheets perforation process and cutting, bending, notching, anodizing, painting and other further fabrication services.
Hole Type: Round hole, oblong hole, square hole, decorative.
Hole size: 0.5mm to 30.00mm
Plate thickness: 0.3mm to 4.00mm
Material: Copper, Brass, Bronze and Copper / Brass Colored.
The decorative perforated copper sheets and grills are used as perforated copper cladding, which is a decorative element in interiors architectural designs. Perforations in copper inspire architects and planners to new creative works, for new visions in surface design and innovative applications of the versatile products.
Perforated copper sheets / grilles are excellent at producing decorative effects, the materials are moisture resisting and strong for its light-weight.

Finishes:
Brilliant, high polished, painted, reflective shine or a dull mill finish.
Features and Uses:
Perforated copper and brass can be used in flooring, wall panels, decoration, metal partitions, perforated metal elements and many other decorative and architectural applications.
Patterns available:

Diamond;
Round;
Decorative.
We supply standard and customized perforated copper sheets with following specifications.
Perforated sheet copper
Copper sheet 1250mm x2500mm, thickness 3mm, perforated hole 6mm
center to center 35mm; hole 8mm center to center 25mm
Perforated copper sheet, decorative panels
Red copper sheet with beautiful and warm color, perforated decorative panels with square hole.
Copper nickel perforated sheet
Material : CuNi 90/10
Size: 710mm x 1310mm x 2 mm
Hole: 5mm
Pitch: 7mm
Perforated phosphor bronze / copper alloy
- Hole Shape: circular cross
- Perforated Pattern: round staggered
- Hole Diameter: not greater than 1/8''
- Size: 12'' x 30''
- Minimize pitch and maximize open area (values not fixed)
20 oz copper perforated sheet - 3/32 diameter x 5/32 stag 3' x 10'
32 oz X 36" X 96" Perf. Sheet Copper 1/4" on 3/8" stag.
20 oz – 1/16″ on 3/32″ stagger round punched sheet. 4'x8' sheet – 44% OA
Perforated copper sheets Grade: ETP Copper (99.99%)
Thickness: 0.8mm
sheet size: 158mm x 100mm
hole dia: 1mm
pitch : 3mm
Perforated copper sheets, round hole staggered

Specifications:
0.033" diameter round holes
0.077" distance between two holes center to center
staggered configuration
Thickness: 0.5 mm
Length: 30 cm
Width: 30 cm
Copper Perforated Sheet as per specification
| | |
| --- | --- |
| Item | Description |
| Copper Perforated Sheet of Size 2500 X 1100 X 0.5 mm | Hole dia. =3.3 mm Pitch Distance = 7.0 mm |
| Copper Perforated Sheet of Size 2500 X 1100 X 0.5 mm | Hole dia. =2.0 mm Pitch Distance = 4.5 mm |
| Copper Perforated Sheet of Size 2500 X 1100 X 0.5 mm | Hole dia. =3.0 mm Pitch Distance = 7.0 mm |
| Copper Perforated Sheet of Size 2500 X 1100 X 0.5 mm | Hole dia. =2.6 mm Pitch Distance = 4.5 mm |
| Copper Perforated Sheet of Size 1000 X 800 X 0.5mm | Hole dia. =0.7 mm Pitch Distance = 1.5 mm |