Perforated Metal Styles
Perforated Materials:
Perforated Metal Products
Technical Terms:
Other Sheet Metals
Processing Machines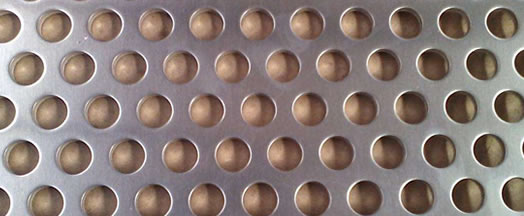 SUS 304 and 316 Punched Plate
SUS Punching Plate is a kind of metal perforated sheet punched in round hole and other hole types out of stainless steel 304 or 316 grade materials. SUS316 and 304 stamping metal is popular for fabricating of stainless steel filter elements and cartridges in industrial uses like chemical fiber and pharmacy. The punched stainless steel can be made into filter cylinders and baskets.
Hengda offers both SUS304 and 316 metal sheets for customer choice.
The plate thickness is 0.5mm or custom size. Punching hole size is 0.1mm for filtration layer of the filter cartridges.
The hole can be stamped and punched in big opening if the punched metal plate works as supporting layer for the filter elements instead of filter layer media.
The Pitch size : 0.5mm or custom size.
The plate sheet size: 500x500mm. All specifications can be made upon request. SUS punching plate is made of stainless steel sheet which has good corrosion and acid resistance.
SUS Punching Metal Plate can be supplied in various grades of stainless steel, with specifications as below:
Material: Stainless steel SUS304,304L,316,316L, etc.
Plate Thickness: 0.03-5.0mm
Hole size: 0.2-10mm
Sheet size: 1 X 2 meters.
0,915 x 2.44 (3 'x 8')
1.22 X 2.44 (4 'x 8')
0,915 x 3.05 (3 'x 10')
1.22 x 3.05m (4 'x 10')
Major Applications of stainless steel punching plate:
Mining;
Chemistry;
Agriculture;
Architecture;
Air and Oil Filters;
Screening process for Grain;
Drying;
Furniture;
Hammer Mills, Etc.

SUS 304 Punching Plate, Round Hole

Stainless Steel Punched Metal Plate Filter Elements
We supply following punched metal plates:
Stainless steel plates (AISI 304) , punched hole diameter 0.5mm, sheet thickness 1.0mm. sheet size 1000 * 2000mm
304 stainless slotted plates, the slots .125" x 1.5" staggered slots on 11ga material.
Metal sheet stamped with the following specifications:
Circular round holes;
Hole size 2 to 5mm;
Material: SS 316, SS 304
Size: 1250x1250
2mm thick 304 punched perforated plates with slots 2mm wide 20mm long
304 or 316 stainless steel perforated plate
48" x 96" sheet
1/8" dia holes on ¼" stagger, 14 ga thickness or .125" thickness
16 gauge 304 or 316 SS punched metal plates / panels:
The perforations are rounded slots with a width of anything from .092 -.125 and a length of 1 inch to 1.250.
.125 solid border around the entire periphery.
The size of the sheet is 30.600 (+.000/-.0625) long by 24" (+/- .125) wide.
1 mm round holes on a 2 mm thick 304 sheet
For Filter Element - 3 in, 0.8 mm punched sheets supplied in 304 stainless Steel.
Triangle open perforated plate

Hexagonal open perforated plate

2mm SS Round open perforated sheet