Perforated Metal Styles
Perforated Materials:
Perforated Metal Products
Technical Terms:
Other Sheet Metals
Processing Machines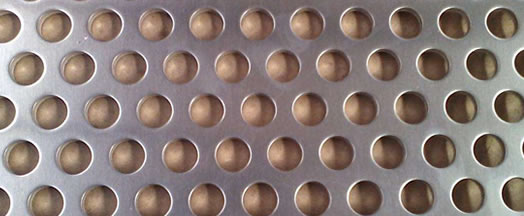 Mild Steel Perforated Sheets - Perforated Steel Metal
Perforated carbon steel or mild steel sheets are manufactured from one-piece sheet metal material with perforations of round hole, hexagonal, semi-circular and various slotted patterns. Perforated steel sheets are supplied in various thickness, pitch, mill finish or zinc coated galvanized for corrosion protection.
Patterns available for steel sheets perforated:
Round is the most common opening;
Diamond;
Hexagonal;
Semi circle;
Others.
We supply standard and customized perforated steel sheets with following specifications.
Perforated steel sheets with diamond opening are typically used as safety flooring or decks due to the low cost and safety.
The perforated steel sheets with serrated edges and checkered diamond openings provide an anti-slip resistant grip from all directions. While flooring channels can be manufactured in a variety of materials: pre-galvanized steel, aluminum alloy, and stainless steel, galvanized steel perforated sheets are the mostly used and most economic choice.
Perforated open grip planks manufactured from perforated steel sheet material with debossed holes for safety treads, with a non-slip characteristics.


Perforated sheet metal flooring is easy to install and should provide a long service life.
Round Hole Perforated Mild Steel

Round hole perforated steel, size 1250mm x 2500mm x 1.0mm
Semi-circle hole perforated panel, thickness 4.5mm to 6mm (mild steel)
1.6Mx1.8Mx3mm thick Mild steel – perforated – 0.5mm diameter holes
Perforated metal steel panel with an hexagon pattern
2 X 6' x 3' 1mm mild steel perforated sheets
LR 20 x 3.6mm slots
Pitch 6mm
16 guage mild steel perforated sheet
1/4" Slotted Perforated Metal:
6.350 x 38.100 mm slot
Every third bridge 4.763 mm wide
Other bridges 2.381 mm
67% open area of sheets
16, 18, 20 gauge steel
Length of slots runs width of perforated sheet.
Perforated carbon steel sheets
Size: 610x650 and 1mm thickness
Grade: F1 or CK 15 for furniture doors
Mild Steel Perforated Sheets with Following Specifications:
Hole size : 1/8"
Sheet thickness: 11GA
Staggered Pitch : 7/32"
Sheet Size: 4' x 8'

10mm square hole x 12mm pitch x1.5mm thick
70% open area
1750 x 1200mm sheets
Perforated mild steel sheets of size thickness 0.7 mm x width 1250 mm x length 2500 mm - pattern ø 4x6 mm - 41% open area
Perforated metal sheets (304l stainless steel) of size thickness 0.7 mm x width 1219 mm x length 2438 mm - pattern ø 4x6 mm - 41% open area
6mm Mild Steel Perforated
16 of Perforated Screens
8 mm Ø holes @12.7 Staggered Centres
6mm Mild Steel
36% Open Area
Cut size 1380mm x 795mm
Perforated MS Sheet
Material - Mild Steel sheet
Thickness - 1.2 mm & 1.5mm
Hole Diameter - 6.0mm
Stag pitch - 6.35 @ 52% opening area.
Mild Steel Perforated Sheet 4'X 8' THK 1mm Open Area 44.18%
(Hole Ø15mm, Pitch Ø20mm X 90 Degree).
0.6mm Perforated zinclume mild steel sheet
Perforated zinculume coated 0.6mm perforated sheet
Flat or bent into custom shapes