Perforated Metal Styles
Perforated Materials:
Perforated Metal Products
Technical Terms:
Other Sheet Metals
Processing Machines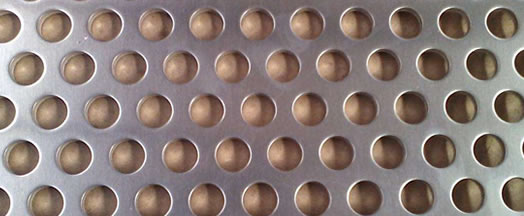 Perforated Diffusers
Air flow is an important factor needed to be considered in architectural designs where perforated metal come as an ideal mesh material. The perforated panels used for building air flow control are called perforated diffusers or air diffusers. It is used as ceilings or roofing panels.
Reasons to Choose Perforated Metals as Roofing Diffusers:
The perforated panels has slotted holes to make it light in total weight and enable the air flow and light flow. At the same time, the holes and openings can be square, round, hexagonal and decorative to meet the whole setting style of the architectures.
Stainless steel perforated metal and aluminum one are self cleanable and need no maintenance.
Popular Specifications:
Common hole sizes are 1/32", 1/16", 3/32", 1/8", 3/16", 1/4", 3/8" and 1/2", 3/4" and 1". Other hole sizes can be manufactured. Also available are decorative patterns.
Standard available panel thicknesses are 20ga, 16ga, 11ga, and 3/16", 1/4", and 3/8". Alternate thicknesses can be manufactured.


Materials:
Common materials are stainless steel (304 and 316), we also supply mild steel and aluminum perforated sheets.
The metal diffusers are in either mild steel, stainless and aluminium with various dimensions depending on both the application and architectural needs.
Specify the following when order:
Materials;
Hole pattern;
Open area;
Strength;
Hole size and thickness.