Perforated Metal Styles
Perforated Materials:
Perforated Metal Products
Technical Terms:
Other Sheet Metals
Processing Machines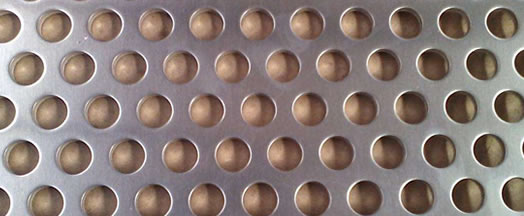 Perforated Cable Tray
Metal perforated Cable Trays provides stronger support for wire cables than common welded wire mesh cable trays and wire ways. Hengda offers perforated cable tray in B line, ladder bridge trays and channel cable trays. The solid metal cable trays are made from punched perforated stainless steel or galvanized carbon steel plates. The holes can be round, square or triangle for ventilation, in various opening sizes and plate thickness. Stainless steel perforated cable trays are rust resistant and suitable for outdoor telecommunication uses. Galvanized steel perforated cable trays offered by Hengda Perforated Metal Factory have two types, one is electro galvanized cable trays for indoor uses and the other is hot dipped galvanized steel cable trays with thick zinc plating and good corrosion resistance. The hot dipped galvanized perforated cable trays are mostly for outdoor cable protection.

Perforated cable trays are manufactured for the smooth and easy pulling of cable from one point to another to BS EN 61537:2002. We have designed cable trays by taking care of cable loads and practical site problems. Wherever possible all fitting are made of state of art single piece construction. Slotting Patterns are in such a way that it enables the easy cutting and joining at any point without drilling at site. Design allows greater cable filling capacity and smooth turning at bends.
| | |
| --- | --- |
| | |
| Perforated Cable Tray | Ladder Cable Tray |
| | |
| | |
| Perforated Cable Channels | |
Common Specification:
Pre-galvanized steel or hot dip galvanized steel before fabrication (HDGBF) as per BS EN 1042
Hot dip Galvanized after fabrication (HDGAF) as per BS EN 1461
Epoxy polyester Powder coating to any RAL Colour
Aluminium Cable Tray
Stainless Steel cable tray to AISI 304 and AIS 316L

Types available for Perforated Cable Trays and Channel Cable Trays Can be Three According to Loading Duties:
1.Light Duty Cable Tray (P Type)
2.Medium Duty Cable Tray (M Type)
3.Heavy Duty Cable Tray (R Type)
It can also be ladder cable tray, basket cable tray, B line and channel tray according to the configured shapes of the cable support and guidelines.

Cable Tray Accessories:
Couplers are supplied in pairs with eight sets of M6 x 16 mm roofing bolts, nuts & washers. Order the same fastening to join fittings with cable trays.
Wrap over Coupler
Bend Coupler
Plate Coupler
Adjustable Horizontal Coupler
Adjustable Vertical Coupler
Blind End
Fish Plate
Dropout
U Coupler
Divider
Fastenings
Earth Continuity connector.
Perforated Channel Cable Tray:
Hengda offers various metal cable trays and basket trays in ladder shape and channel lines with good ventilation and protection. The channel cable trays are made of perforated steel sheets, 304 or 316 stainless steel sheet or aluminum perforated metal plates.