Perforated Metal Styles
Perforated Materials:
Perforated Metal Products
Technical Terms:
Other Sheet Metals
Processing Machines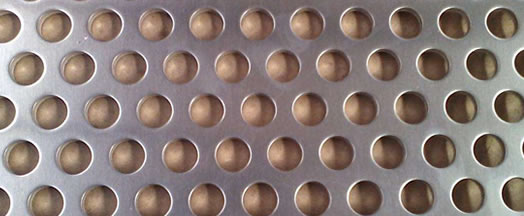 Semi-Circular Hole Metal Sheet
We can provide perforated metals for decoration, screening, separation, sifting, filtration, drying, cooling, cleaning and other applications. Sizes and openings are precisely made according to the specific requirements of our customers.
Opening Patterns including: Round, rectangular, square, triangle, diamond, hexagonal, cross, slotted and special patterns to get special decoration results.
Semi circular or semi-round hole perf sheeting is a special pattern that help achieve specific decorative or screening effect.
Please indicate parameters below when you ask for a quotation:
hole pattern
sheet shape
material
sheet sizes
unique requirements
applications
other information you regard helpful.
SPECIFIC SEMI-CIRCLE HOLE PERFORATED PRODUCTS

Anti-slippery checker plate with semi-circular round hole

6mm Thick Aluminum Chequered Plate and Sheet, Semi Round Raised Pattern for Screening

SS400 1.5-100mm Mild Steel Chequered Plate Safe Flooring Panel

Semi-round hole punched decorative perforated metal sheet powder coated
COMPARING SEMI-ROUND to FULL ROUND
Round Hole Sheets:
Round hole pattern perforated sheet as a comparison illustration with above semi-circular patterns
Surface: round hole can be flat, raised, while semi-round is mostly raised sheet
Application: Semi round perf mesh is mainly used for tread, flooring, screening while round hole mesh perforated plate is used in architecture, decoration, filter, etc.