Perforated Metal Styles
Perforated Materials:
Perforated Metal Products
Technical Terms:
Other Sheet Metals
Processing Machines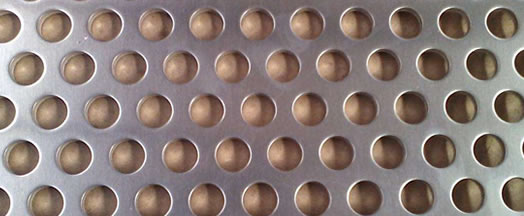 Perforated Screen against Wind and Dusts
Windproof mesh is popularly used against winds and dusts. The wind-breaking nets can be both plastic or perforated mesh. Perforated wind-proof nets can be divided into three types according to the metal structures: single peak, two-body and three peaks. It is composed of perforated sheets with peaks or raised parts and reduced parts. The holes in the same sheets are different. This unique design enables the perforated mesh a strong structure against wind or dust flow in open areas.
Plastic wind nets are mainly used to provide micro-climate on crops.
Perforated metal wind-breaking nets are used in a wide range of applications:
1. Serious sandy areas, to reduce sand accumulation;
2. In environmental protection, windproof mesh can reduce the bulk material handling and heap objects
3. The mesh is used for open storage of various coal yards, ore, lime and other bulk flow of materials piling up in the face of strong winds. To prevent pollution of the surrounding atmosphere.
Methods of Using Perforated Mesh against Winds and Dusts:
There are three ways to take control of the winds and dusts:
Surface coverage, spray technology and windproof and dust -control technology.
The most effective way is to use wind-breaking nets to control the bulk flow material and in this way to reduce dust pollution.
Perforated Screen against Wind and Dust
Type
Forming width
Peak height
Length
Sheet thickness
Single-peak(monomer)
250-500mm
50-100mm
0.5-4m
0.5-1.5mm
Bimodal (two-body)
400-600mm
50-100mm
0.5-10m
0.5-1mm
Three-peak(triplets)
810-910mm
50-80mm
0.5-10m
0.5-1mm