Perforated Metal Styles
Perforated Materials:
Perforated Metal Products
Technical Terms:
Other Sheet Metals
Processing Machines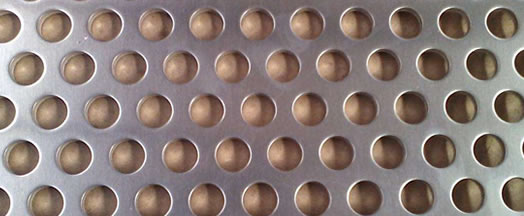 Perforated Steel Tube for Hydraulic Filters and Exhaust Pipe - Perforated Pipe in Carbon Steel Galvanized and Stainless Steel
Perforated Tubes for Hydraulic Filters
Material: Zinc plated carbon steel
Outer diameter x Inner diameter x thickness
20.7x15.7x2.5 mm
31.1x26.1x2.5 mm
33.8x28.8x2.5 mm
35.0x30.0x2.5 mm
58.0x56.0x3.0 mm
66.7x60.7x3.0 mm


Bending Perforated Steel Tube
21mm tube
Wall thickness: 2mm
Perforated with 4mm and 6mm holes.
Pipe length 340mm
Material: Steel
Used exposed to heat and oil
100mm OD Perforated Steel Tube
100mm OD perforated steel tubing
Used as shielding around 1-3/4" exhaust pipe that runs at 1000F.
The perforated tubing connects to a piece of 4" ID flexible exhaust hose.
Perforations allow for air to be drawn in the flexible hose to cool the inner pipe. This type of perforations is rigid and allows air flow.
Length varies from 9-12" lengths.

Perforated tubes for making high performance exhaust systems for autos.
OD 30 x Thickness 1 mm x Length 6 meter
Perforation type: hole size 3mm, triangler stitch 4mm
Carbon Steel Perforated Tube
Carbon steel perforated tubing is usually hot dipped galvanized to enhance its corrosion resistance property.
Perforated Stainless Steel Pipe is corrosion resistant, rust resistant, recycled, ideal for automotive exhaust applications.
Perforated steel tubes are manufactured with round, square, slot holes in straight or staggered designs.
Materials for Perforated Steel Tubes
Perforated Tube is a kind of Welded Steel Pipe made of mild steel or 409, 439, 304, 316 Stainless Steel perforated materials.
Choosing the proper steel materials according to the properties:
Stainless steel is the most corrosion resisting material, while its alloys vary specifically to suit different work environment.
Carbon Steel is the most corrosive and therefore, the least expensive of the three most commonly perforated metals. Produced into coil form by roller leveling to a desired thickness either once while the steel is still hot or again after it has cooled, each of the Carbon Steel types listed below are referred to as either Hot Rolled or Cold Rolled (ex. Cold Rolled Commercial Steel). The difference in processes result in products that differ in terms of cost, quality, and mechanical properties. In short, Hot Rolled is typically less expensive and produced in thicker gauges 7-16, whereas, Cold Rolled provides tighter tolerances, better surface finishes, and while it can be produced in practically any gauge, it is most readily available in thinner gauges 14-28.
Because carbon steel is susceptible to corrosion, it is typically used in either unexposed applications or protected with a coating. Coatings such as paint and powder are applied after perforating and completely protect the material. Zinc based coated metals (i.e. Galvanized, Galvannealed, etc.) on the other hand, are produced and supplied as such from the mill and may not completely protect the material where its carbon core is exposed during the perforating process.
Commonly Perforated Carbon Steel Types
Commercial Steel (HR, CR, GALV) A low cost steel that has good drawing, forming, and welding qualities, moderate strength, but is subject to strains, fluting, and breaks due to aging. To reduce the affects caused by aging, Drawing Steel is recommended.
Drawing Steel (HR, CR)
A steel with a greater degree of ductility and uniformity of properties than Commercial Steel providing improved performance during manufacturing. This type is recommended for use when stretcher strains or fluting during fabrication are objectionable and/or consistency of performance is important.
Forming Steel (GALV)
A steel with lower strength and higher elongation than Commercial Steel. Recommended when stresses from forming either crack or weaken Commercial Steel.
Hot Rolled Steel (Pickled and Oiled)Cold Rolled Steel Electro Galv. Steel
Hot Dipped Galvanized Steel†
Aluminized Steel‡
Gauge
Mean of Gauge
Min. of Gauge
Max. of Gauge
Min. of Gauge
Max. of Gauge
Lbs. per Sq. Ft.
Mean of Gauge
Min. of Gauge
Max. of Guage
Lbs. per Sq. Ft.†
Lbs. per Sq. Ft.‡
7
.1793
.1713
.1873
.1713
.1873
7.500
-
-
-
-
-
8
.1644
.1564
.1724
1564
.1724
6.875
.1681
.1591
.1771
7.031
6.934
9
.1495
.1415
.1575
.1415
.1575
6.250
.1532
.1442
.1622
6.406
6.319
10
.1345
.1265
.1425
.1285
.1405
5.625
.1382
.1292
.1472
5.781
5.701
11
.1196
.1116
.1276
.1136
.1256
5.000
.1233
.1143
.1323
5.156
5.086
12
.1046
.0966
.1126
.0986
.1106
4.375
.1084
.0994
.1174
4.531
4.471
13
.0897
.0827
.0967
.0847
.0947
3.750
.0934
.0854
.1014
3.906
3.853
14
.0747
.0677
.0817
.0697
.0797
3.125
.0785
.0705
.0865
3.281
3.238
15
.0673
.0613
.0733
.0623
.0723
2.813
.0710
.0650
.0770
2.969
2.929
16
.0598
.0538
.0658
.0548
.0648
2.500
.0635
.0575
.0695
2.656
2.613
17
.0538
.0478
.0598
.0498
.0578
2.250
.0575
.0525
.0625
2.406
2.363
18
.0478
.0428
.0528
.0438
.0518
2.000
.0516
.0466
.0566
2.156
2.113
19
.0418
-
-
.0378
.0458
1.750
.0456
.0406
.0506
1.906
1.863
20
.0359
-
-
.0329
.0389
1.500
.0396
.0356
.0436
1.656
1.613
21
.0329
-
-
.0299
.0359
1.375
.0366
.0326
.0406
1.531
1.488
22
.0299
-
-
.0269
.0329
1.250
.0336
.0296
.0376
1.406
1.363
23
.0269
-
-
.0239
.0299
1.125
.0306
.0266
.0346
1.281
1.262
24
.0239
-
-
.0209
.0269
1.000
.0276
.0236
.0316
1.156
1.113
25
.0209
-
-
.0179
.0239
.875
.0247
.0207
.0287
1.031
1.019
26
.0179
.-
-
.0159
.0199
.750
.0217
.0187
.0247
.906
.863
27
.0164
-
-
.0144
.0184
.688
.0202
.0172
.0232
.844
.833
28
.0149
-
-
.0129
.0169
.625
.0187
.0157
.0217
.781
.771
29
-
-
-
-
-
-
.0172
.0142
.0202
.719
.709
30
-
-
-
-
-
-
.0157
.0127
.0187
.656
.648