Perforated Metal Styles
Perforated Materials:
Perforated Metal Products
Technical Terms:
Other Sheet Metals
Processing Machines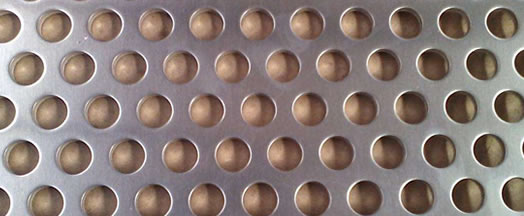 Perforated Stainless Steel Sleeves
Hengda supplies perforated stainless steel sleeves for filter support and protection uses. Typical style export to Australia market is 25mm pipe diameter at length of 200mm with a full perforated round holes at one end. We supply perforated metal tube sleeves in various grades of materials, gauges and sizes.
Materials:
Stainless steel grades: SUS304, 304L 316L.
Other metal grades: Galvanized steel 302, aluminized steel, brass, copper, Monel, Inconel, Hastelloy.

Perforated Patterns for Sleeves: Round hole, square hole.

Application:
Perforated mesh tubing / pipes enjoy good strength, precision opening, suitable for support and protection of various metal filter elements and strainer tubes. The metal mesh sleeves are used to prop the soft woven stainless steel cloth mesh layer. They combine together to become a filter element or strainer tubes for air, liquid or flow filtration system.

Stainless Steel Filter Pipes for Micron Melt Filtration

Square Hole Stainless Steel Mesh is easy to deform under pressure with its weaving structure. Can be reinforced with perforated sleeves in manufacture of filters and strainers.
Specification of Perforated Stainless Steel Sheet for Filter Sleeves
Sheet Thickness
Opening in Width
(mm)
Opening in Length
mm
Stem
Roll Width
mm
Roll Length
mm
Weight
kg/m2
0.5
2.5
4.5
0.5
0.5
1
1.8
0.5
10
25
0.5
0.6
2
0.73
0.6
10
25
1
0.6
2
1
0.8
10
25
1
0.6
2
1.25
1
10
25
1.1
0.6
2
1.77
1
15
40
1.5
2
4
1.85
1.2
10
25
1.1
2
4
2.21
1.2
15
40
1.5
2
4
2.3
1.5
15
40
1.5
1.8
4
2.77
1.5
23
60
2.6
2
3.6
2.77
2
18
50
2.1
2
4
3.69
2
22
60
2.6
2
4
3.69
3
40
80
3.8
2
4
5.00
4
50
100
4
2
2
11.15
4.5
50
100
5
2
2.7
11.15
5
50
100
5
1.4
2.6
12.39
6
50
100
6
2
2.5
17.35
8
50
100
8
2
2.1
28.26