Perforated Metal Styles
Perforated Materials:
Perforated Metal Products
Technical Terms:
Other Sheet Metals
Processing Machines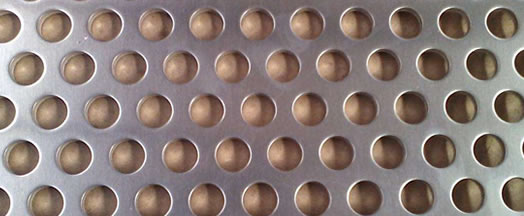 Perforated Metal Sheets in Coils - Galvanized Perforated Coil, Micro Perforated Aluminium Coil, 304 Stainless Steel Perforated Coil
Perforated coils and sheets are ideal industrial and engineering materials for original equipment manufacturers. Perforated metal sheet in coils enable higher production efficiency for automated production operations by means of reducing handling of sheet material.
Perforated metallic coils can be supplied either fully perforated or paneled sections in a range up to 60" width in 16 gauge. Thinner coil sheets available to meet specific design and production requirements.
We are supplier of perforated coils specified as following.
Sheet in coil material: Aluminum, stainless steel, galvanized steel, galvannealed steel.
Size of sheet: width ranges 8"-12" , length ranges 30"-36"
Thickness:12 to 26 gauge.
Finish: No sharp edge, slots with margins
Perforated Coil with Round Holes
Coil width: 2'3/4", length 60'.
600 l/m x 1.06m wide x 1.5mm round hole 304 stainless steel perforated coil
Galvanized Perforated Coil
Ga 18
Ga 20
Perforated G90 Galv. PERFORATED G90 GALV. 18 GAGE X 42" COIL
¾" round hole 1"Staggered center
20"ID, ½" side margins
5.394" Galv. sheet .028 inch x 3/32 inch Diameter Perf Coil
Galvanized and Painted Perforated Steel Coil
For accoustic aplication in roof panels
Dimension of coils: 60cm x 0.4mm gauge
Perforation pattern: Round holes with 3mm diameter
Material: Color Grey
Perforated Coil & Sheet
Perforated materials: Galvanized steel sheet
24ga x 5.394" Galv steel perforated coil w/ 3/32"holes on 3/16" staggered centers
20ga x 5' x 10' Galv Perf Sheet w/ 3/32"holes on 3/16" staggered centers
Perforated Coil Material
Material Specification:
.024 +/-.003 X 3.250 +/-.015 X coil
CRS DQSK perforated no margins
.040 round holes .058 staggered centers
Coils free of rust and stains
Coils marked with white paint that indicate defects during perforating

Perforated Steel coils and Steel plates
Thickness :0.5mm, width :34mm,hardness :150 vickers
Plate thicknesses 3 to 8 mm.
For product line

Die Mould Set for Production of Perforated Blanks From Coil
Perforation mould die details:
Material: SS304
Strip Width: 265 mm
Strip Thickness: 0,40 mm
L: 1,75 mm
Ød: 0,8 mm
165x265x0,4 mm part dimensions
Pattern:


Die-mould set for this process.
Uncoiler-Servo Feeder-Mechanical Press - Recoiler combination


SS 202 Perforated Sheet
4 x 10 MM Capsule Hole x 1.5 MM Thick - 3' x 200' Coil
Perforated Sheet for Degreasing Vapor Ventilation
Flat metal sheets of 12 gauge galvanized annealed steel
Dimensions 8"x30", 8"x36", and 8"x45"
Perforated Coils in SS 304L and Perforated Sheet in Coils in SS 316LPerforated coils in stainless steel with the following specifications:
Perforated sheets in coil, 168 mm wide, with 5 mm plain on each side of the panel, thickness 2 mm, staggered in R3T5 in SS 304L.
Perforated sheets (in coil), 168 mm wide, with 5 mm plain on each side, thickness 2 mm, staggered in R3T5 (see picture above) in SS 316L
Raw material 3.1
Incoterm : DDP Ternay (in France)
Micro Perforated Aluminium Coil
Perforated aluminium coil alloy 3105H14
Thickness 0.7 mm
Perforated hole diameter 0.7 mm
Pitch 5 mm

Round hole perforated 5" aluminum coil.
Coil in 270' length
Aluminum coil
Perforated Aluminum Coil
0.019" x 5.50" wide x coil
0.019" x 6.50" wide x coil
50% or more coverage area.
Perforated Aluminum in Coil Form
Coil size:
• .001 to .003
• 45-55 holes/cm2
• 200 to 300 microns
• 1100 soft annealed AL
• 36" wide coil
• 6" ID


Perforated Slotted Aluminum Coil
Aluminium 50 mm x 60m roll
Alumium 80 mm x 60m roll
Alumium 100 mm x 60 roll

27gauge 3" wide slotted aluminum coil-painted black
Screen for architectural wall panels.
The slots about .08"x.2", with .04" space in between slots.
Custom slot sizes & pattern available upon discussion.

Perforated Part - Aeration Floor Strip
Coils: 20 Gauge Galvanized 20 inch Core 2000 lbs.
0.050 inch hole, 14.51 cent open perforation

Perforated Metal Sheets in Coils

Specification of metal sheets:
Metal type: DX 51D
Dimensions: thickness – 0.8 mm, width – 214 mm
Coating: zinc Z, minimal weight of coating – 150g/m2
Dimensions of coils: minimal inner diameter - 0.51m, maximal outside diameter – 1.1m
Drawing:
184mm Perforated Steel Coil
184mm width Perforated Steel on a coil
Weight: 4000kgs
Length: 2250m

Contact us for more information on perforated sheets and coils.