Perforated Metal Styles
Perforated Materials:
Perforated Metal Products
Technical Terms:
Other Sheet Metals
Processing Machines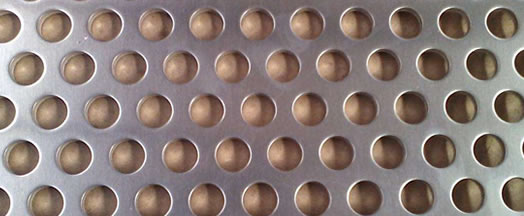 Perforated Metal Mesh Grille : Decorative Panels, Speaker Grille and Vent Grille Guards
We manufacture and supply Perforated Grilles made from stainless steel and aluminum perforated sheet materials in a variety of finishes and styles. For decoration, speaker cover, ventilation and guards.
Perforated grilles are mostly supplied with a grill opening range of 30% to 67% and the sheet thickness range from 1/10 in. to 1/2 in.
Perforated metal grilles can be produced in decorative hole patterns including cross, overlapping circle, honeycomb, diamond, square, large sword, small hole club and etc.
All metal perforated grilles can be made with optional wire mesh backing ( the wire mesh can be micron or coarse mesh sheet) to suit the work condition.
Perforated mesh grilles are supplied in standard specifications or custom made to meet special specifications. When used as radiator grilles, the perforated grilles are made with customizable hole sizes, patterns and styles.
We supply both corrugated or flat perforated grilles.
Perforated Metal Grille
Aluminium Perforated Facet Grilles
Perforated Aluminium Grille
Perforated Grille Silver Color
Stainless Steel Perforated Grill
Perforated Grille, Honeycomb Perforation
Polished Brass Perforated Grilles
Perforated Grilles Circular Hole
SS Perforated Grill

Honeycomb Stainless Steel Decorative Perforated Grille

Aluminium Perforated Face Grilles
Stainless Steel Perforated Grill - SS Perforated Grille Sheets

Perforated Aluminium Grilles Silver Color

Perforated Grille Polished Brass

Architectural Perforated Metal Grilles
Aluminum Powder Coated Grilles
Square pattern: 1/4 Inch or 1/8" square pattern
Material: Perforated aluminum with powder coated finish.
Aluminum Mesh Guards for Fans Manufacturers
Aluminum mesh grills to replace wire fan guards
For large drum fans 30" to 48" in diameter
Design: Convex or concave shaped to add rigidity
Extractor Grille Cover
Kitchen extract grille
450x600mm x 1mm holes
Slot design optional
Perforated Metal Grille for Upper Hood
Material: 18 GA Perforated Steel with .075 inch diameter
Pattern: Staggered holes on .100 inch centers
Open area: 51 percent
Hole pattern to be horizontal at center of screen.
Architectural Perforated Metal Mesh Grille
Pattern: Club pattern
Used as panels for cabinet doors