Perforated Metal Styles
Perforated Materials:
Perforated Metal Products
Technical Terms:
Other Sheet Metals
Processing Machines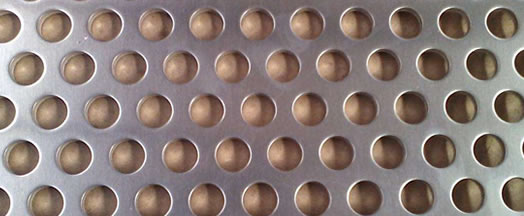 Aluminum Perforated Sheet, Corrugated Perforated Alumium Sheet
Perforated sheet made of aluminum is rust free, maintenance free, excellent at resisting moisture, corrosion and strong for its light-weight.
Supplied in a variety of sheet thickness, perforation patterns and finishes, perforated aluminum plates can be used in flooring, wall panels, architectural decoration, metal partitions, security guarding, balustrades, railings and many other applications.
Diamond pattern checkered or embossed aluminum sheet is slip-resistant and popularly used in tread plate applications.
Finishes:
Aluminum perforated sheet has a surface treatment of high polished reflective shine, a dull mill finish, black painted, polyester painted or anodized.

Perforated Aluminum, Anodized Finish:

Perforated aluminum partitions form effecitve physical barriers for automated machinery and other facilities, to protect employees from the dangers presented by the equipment in factories. The perforated metal panels are mounted along the perimeter of a work cell or certain sites to provide a protection from the hazardous area.

Machine guard alum partition panels:
Patterns available:
Diamond checkered;
Slot;
Round / circular;
Decorative.

Aluminium Perforated Panels, Circular Hole Perforation:
We supply following Perforated Aluminum Sheets / Plates Products
4 feet by 8 feet, 0.0400 inch thickness aluminum perforated sheets with 3/16" round holes on 3/8" staggered centers.
Micro Perforated Sheet in Aluminum:
Size according to the attached sketch
Aluminum sheet 1 mm thick, board dimensions 3000x1500mm, micro perforation 0.8mm.

Perforated Aluminum Plate:
Round hole perforated aluminum mesh curtain, 3/8 hole, sheet thickness 3/16" thick
Embossed aluminum sheets, PE painted:
Finish: PE polyester paiting
Perforations: like drawing attached
Type of Embossed: Raised
Thickness: Perforated sheet 1.5mm
Color: PE grey
Size:(polyester paiting embossed aluminum sheets)
Item
Width
Long
Thickness (mm)
Finish
Embossed And Perforated Aluminum
Sheet-painted One Face
1.2
2.5
1,5
PE Polyester - silver
matte
Embossed And Perforated Aluminum
Sheet-painted One Face
1.2
2.5
1,5
PE Polyester - silver
matte
Embossed And Perforated Aluminum
Sheet-painted One Face
1.12
3.4
1,5
PE Polyester - silver
matte
Embossed And Perforated Aluminum
Sheet-painted One Face
1.2
3.05
1,5
PE Polyester - silver
matte
30" x 96" or 10" x 96" perforated aluminum sheets:
The slot size ¼" w x 2" on staggered centers.
The sheet thickness 14 gauge (.063")
Perforated aluminum mesh:
Round 8 inch (0.2meters) diameter with hole perforation of less than 0.25 mm. Perforated aluminum sheet plates of staggered round holes of 2mm centers. The sheet dimensions 33in. X 72in and a thickness of 0.5mm.
Aluminum slotted hole perforated sheet 2mm thickness and the holes, perforation 25x2mm.
Aluminum perforated plate, 60% perforation, 10mm diameter hole and 4mm thickness.
Perforated aluminum sheet with staggered centers and opening areas, sheet width and length: 150MMX1000MM.
Hole Diameter
Staggered Centers
Sheet Thickness
Open Area
0.045"
1.14mm
0.066
0.033-0.039"
0.84-0.99mm
37.00%
Perforated aluminum sheets, the slots side stagger with 1/4"x1" openings, thickness 14 gauge with a 40% opening.
Perforated aluminum sheet: 1.5mm thick, perforation diameter: 1.2mm
space between holes: 5mm
see the details attached
Aluminum perforated Sheets in size 1,220 x 2 440 Meter x 1 mm thick
Size - 1,220 x 2.440 x 1 mm thick
Material - Aluminum grade 8011 H 14
Finish - Powder Coated in White color with coating thickness 70-80 micron
packing - In Thick paper bag or plastic bag x suitable quantity per pack Export worthy.
Perforated 20"x14" aluminum sheet at .250(1/4") thick, 1/4 round holes, at 3/8 staggered 40% open area.
Perforated aluminum sheet, 0.63 thk, 0.25 round hole on 0.31 center, 60 deg stag, 58% open area.
Aluminum perforated metal paneling
Alum Perforated Panel, 1/2"x1/2" Perforation, 50% Open Ratio for Curtain Wall
Corrugated perforated sheet
Perforated sheets in aluminum and GI.
Size: 2440x1220 mm
GI thickness: 0.5 mm
Aluminum thickness: 1 mm
Attaching drawing for corrugated profiles in the above mentioned sizes.
Perforated aluminum corrugated sheet for manufacturing baking trays
Thickness 1,00mm
Width; 590mm, 770mm, 790mm, 970mm
Alum alloy 5754 H111 and/or 3003
Hole size; Ø 1,6mm and/or 2,00mm
Raster (space between holes); 3,00 and/or 3,2mm
Space from edge to perforation; 15-20mm
Aluminium Corrugated Cladding Sheet

Details:
Thickness is 0.7mm Aluminium sheet
Temper : 3105 H18
Color Coating : Top Coat 5 Microns primer + 15-17 Microns Regular Modified Polyester Paint (Color: RAL Number is RAL1001)Bottom Coat : 8-10 Microns Primer (Colour : White Grey )
Profiled sheet capable of withstanding a minimum wind load of 0.7 KN/m over a span of 2.5m.