Perforated Metal Styles
Perforated Materials:
Perforated Metal Products
Technical Terms:
Other Sheet Metals
Processing Machines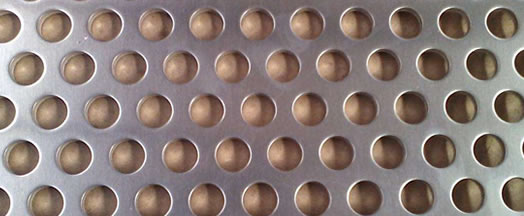 Perforated Metal Machine
Perforated metal machine is designed for manufacturing of perforated metal sheets of various materials. The metallic materials include iron plate, stainless steel plate, copper plate, aluminum plate, galvanized plate etc.
Nonmetallic material: Fibre plate, plastic plate, film etc.
The shape of the hole we can serve: round hole, long round hole, square hole, triangle hole, diamond hole, hexagonal hole, crossed hole etc.
The biggest size of working space 1250*2500mm
The biggest thickness of working part 6mm
The precision of the hole punching ±0.1mm
The axis number-controlling Four (X.Y.T.C)
The precision of repetition localization ±0.1mm
The power of the main electrical machinery 3.0KW
Power Source 30KVA
Hengda exports perforated metal sheet production lines for companies looking to set up factories in Chile, Qatar, Saudi Arab, Brazil and other countries.
Machines and devices for sheet metal materials fabrication:
1. Punching Press
2. Metal plate decoiler
3. Leveller ( Leveling and flattening machine)
4. Slitter ( Metal sheet slitting machine)
5. Shearing machine

Machine for Perforation of Plates Form Metal Material

Sheet metal punching machine with rollers, designed for processing of metal plates with thickness 0.6mm to 3mm, well sold in Chile
Detail Information:
Material form for processing: plates ( not coils).
Sheet metal screen punching machine designed with the following working characteristics:
Punch and rollers width: 1000mm, 1250mm and 1500mm options.
Material: Carbon Steel (Cold rolled), Galvanized and Aluminum, Stainless Steel.
Plate thickness the machine is designed to fabricate: 0,6mm up to 3mm.
Maximum pitch of perforations: 20mm

Rounded perforation tool sets supplied with the machine:
All sets have perforations with cross distribution.
Diameter – Pitch (mm.)
2 – 3.4 mm
3 – 5mm
4 – 6mm
4 – 8mm
5 – 7mm
6 – 8.5 mm
8 – 11 mm
10 – 14 mm

Components of the machine: Punch holder, punches, suffers, punches guide, etc.
Typical Panel Patterns:
Perforated Sheet Making Machine for Coil Form Metal Materials Perforation
For Qatar

Designed to process 1220 width coil and level the coil, slit the material and process for punching, and the shear per the finished sheet length.
Material form: Coil
Material Thickness: 6mm Max.
Material Grade to punch : ASTM A 572 Gr 50
Width of the coil: 1220mm
 The whole machinery line is supplied with decoiler, leveler, slitter, punching head and shearing devices.
CNC Control Automatic Perforated Sheet Making Machine
Optional Perforation Press For Qatar

Perforated sheet making machine designed for diamond hole and special perforation.
Specification:
 Material forms the machine is designed to work: Sheet 1220x2440
Material Thickness : 6mm Max.
Perforation pattern: Diamond, round, hexagonal, cross, decorative
Material Grade to punch : STM A 572 Gr 50
Punching head: CNC controlled as per design adjustable.
A variety of holes can be achieved by changing of tool sets.
Punching Machine to KSA (Kingdom of Saudi Arab)
Sheet perforating machine designed for processing the following materials:
Ms / mild steel plate 3mm to 8mm thickness
Hole diameter 2mm to 30mm.
Optional size:
Punching radius end slots 3/16" wideth and 1.300" long through 8 or 9 ga A36 mild stee.l
Perforated Press for Punching of Galvanized Sheets

For Brazil
Perforated press designed for punching the following materials:
Galvanized sheets
Plate Thickness: 0.5 mm to 1.2 mm
Hole diameter: 3mm
Pitch: 5mm
Width of the sheet: 1250MM
Length of sheet: 2500MM
We also supply perforated metal machines of other types and specifications. For more, welcome to contact us.
Why From Hengda?

Hengda is a professional and reliable supplier. We supply one-stop perforation services: Laser Cutting, Punching, Shearing, Bending, Welding, Surface treatment, Assembly and various fabrications of metal materials. We know sheet metal processing well.
We help with setting up your own factories.
We provide onsite training of workers.
We have expert engineers and professional designer team, we can design CAD and solid-works drawings. We can design, manufacture and install a wide and varied range of perforated metal making machines to suit individual demands.
OEM and ODM project are acceptable.
Factory price, On time delivery, samples of the perforated metal screens are sent first for inspection before delivery of machines.