Perforated Metal Styles
Perforated Materials:
Perforated Metal Products
Technical Terms:
Other Sheet Metals
Processing Machines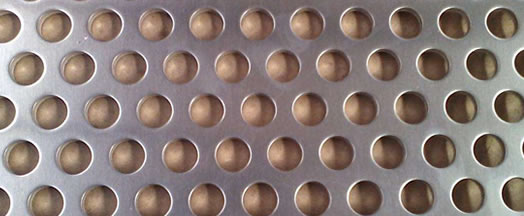 Square Hole Perforated Sheet
We export perforated sheets with square hole mainly with following sizes and materials:
- 5mm square hole 3mm thickness sheet;

- 6mm square hole 1.2 thickness perforated metal sheet;

- 1- 48'' x 96'' x 1/8'' stainless steel square perforated sheets with a 1 x 1 '' square hole opening;

- 304 SS Square hole Perforated sheet 16ga with ½" Sq holes either 48" x 48" or 48" x 96";

- Aluminum sheet with 5/8 x 5/8" hole perfs 16 gauge with approx. 5/8 x 5/8" square openings;

- Square hole perforated sheet,5mm straight pitch,4mm straight pitch,In 1 and 2mm thick,Mild and stainless steel;

- Stainless steel sheets using 304 grade with a 10 mm square hole in;

- SS304 Square Hole Perforated Sheet 405X3800X0.5mmThk (punch 25X35) 4 mesh 26 sq ft;

- Stainless steel 304 perforated plate, 8mm x 8mm square hole 4' x 8' x (thk)1mm;

- Square hole perforated 3 mm steel sheet for use in plant as aggregate filter, sheet dimensions 680mm x 430mm x 3mm, apertures 30mm x 30mm
Perforated Size Range: From 3 mm. to 120 mm.
Sheet Thickness Range: From 0,5 mm to 5 mm. (depending on perforation).
Sheet Size Range: 2.000 mm wide in sheets (depending on perforation), 1.500 mm. wide in roll (depending on perforation).
The maximum width we can provide for perforated metal is 2meter, the preferred maximum is 1.5meter.
The maximum length we can perforate is 6meter, the preferred maximum is 4meter.
Material Range: The most common material types are bright iron, mild steel, Pre-galvanised mild steel, stainless steel, aluminium, brass, painted in color, powder vinyl coated, etc.
Application Range: Perforated metal sheet with square aperture is used in many applications such balustrade infill, acoustics, security screens, air-condition units, radiator covers, screening, decorative and display units.
SHEET METAL MATERIALS
Square Hole Perforated Metal Sheets in varying hole sizes & thickness

Mild Steel Square Hole Opening Mesh Sheets: MS, galv., bright iron, painted ms.
Stainless Steel Perforated Mesh, Powder Coated Finish in Colors

304 and 316 Stainless steel square perforated plate, mill finish or painted in Grey and other colors
Perforated Square Hole Aluminum Sheet

Aluminum materials plates: Brush aluminum, coated, anodized
Major Material: Aluminum
Class: Square Pattern
Gauge (Thickness): .050
Percent Open Area: 53
Length (Span for Grating): 120.0000
Hole Centers: 0.6875
Surface Finish: Mill
Minor Material: Type 3003-H14
Hole Size: 0.5000
Width: 48.0000
SPECIFIC METAL MESH PRODUCTS

perforated square hole sheets- each sheet require 1850mm x 1000 mm

Square mesh screen, perforations in stainless steel material, powder coated, thickness 0.5 mm, hole size (4x4 mm) for square hole, open area 70-80%, material- stainless steel

SUS 316L square hole perforated sheet 3mm thick, size 1450mm x 1082mm, size hole 8mm