Perforated Metal Styles
Perforated Materials:
Perforated Metal Products
Technical Terms:
Other Sheet Metals
Processing Machines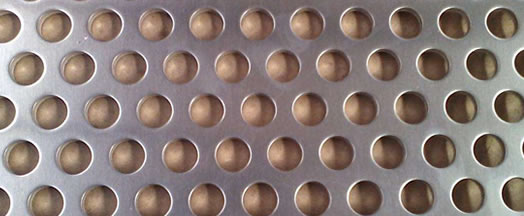 Perforated Ducting
Perforated metal can be made into perforated ducting in mild steel sheet from 6mm to 25mm thickness. Perforated in a parallel or staggered arrangement to meet your specific requirements. Various metal widths and lengths available. Finishes usually are offered in mild steel but can be galvanized or painted to customers order.
Stainless steel perforated ducting is available to satisfy health and safety requirements in the food and chemical industries.
A fine aperture is sometimes required in combination with high load bearing properties. A solution may be obtained by placing a thinner, finely perforated sheet on top of the thick plate, which has larger holes. Connection of the two is obtained either by tack welding, or, if the thinner sheet must be removed for cleaning purposes, countersunk screws are applied.
Interior Perforated Pipe for Double Wall Duct Work
Perforated steel sheet fabricated into spiral pipes, used as inner wall for duct work noise reduction and air erosion.
Material: Steel perforated, galvanized, or ss


Perforated metal tubing, fine round hole staggered, welded in spiral forms in length
Perforated Metal Scrap Supporting Ducting Pipe
Perforated metal strapping / strips, dust work accessories


Material: Galvanized steel, stainless steel
Double Layer Metal Duct
Out side metal sheet, inside perforated tubing

More Perforations Types