Perforated Metal Styles
Perforated Materials:
Perforated Metal Products
Technical Terms:
Other Sheet Metals
Processing Machines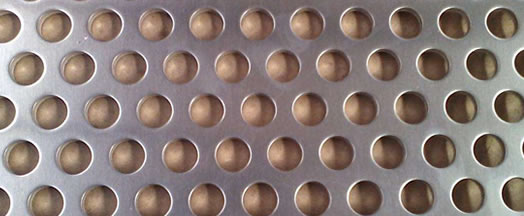 Rice Huller Screen, Husker Screen and Polisher Screen: Perforated Screen for Rice and Corn Processing Machines
Hengda supplies standard perforated metal (mild and stainless steel ) screen parts for various rice and corn and grains processing. This page mainly introduces perforated huller screen, husker screen and polishing screen. The fitted processing machine types are also introduced for your easy choice of the steel perforated sheet.
Perforated mild steel huller screen/husker screen and polisher screen:
The metal screens are mainly used as spare parts for hulling rice and separating rice hulls and shriveled rice from rice and paddy mixture. Also used for millet polisher, coffee pearling, maize husker, and other grains' huller. By means of roller's rotating in the machine, grains are milled each other among the screens. Reaching the required grade, polished grain flows out from the outlet. At the same moment, the grain's husk flows out from the holes in the screen.
Benefits of Using Perforated Huller /Husker/Polishing Screens:
Most cost-effective prices;
High-quality mild and stainless steel offering good ability in abrasion resistance;
Advanced heat-treatment technology and thick screen stands more wear and tear;
Specialized design and manufacture different screen for round-shape grain and long-shape grain, various processing;
Complete varieties: Different screen filters for rice grain, big grain such as coffee, and little grain such as millet;
OME order acceptable.
Specification:
| | |
| --- | --- |
| Screen Length | normal size: 223mm, lengthened size: 308mm |
| screen thickness | normal size: 1.2mm; thickened size; 1.8mm; thinned size: 1.0mm |
| Punched or Slotted holes' size | length: 10-15mm, width: 0.8-1.5mm |
| Surface finishes | Normal oiled surface; electroplated surface; stainless steel plain. Electroplating steel screen owns better corrosion resistance than oiled steel. SS offers better property than electrogalvanized. |
| Quantity per machine | hexagonal screen: 6pcs/set; octagonal screen: 2pcs/set |
The Huller Machine fitted with perforated screens enjoy the following features:

1.Having compact structure and convenient operation and maintenance.
2. The machine has built-in blower fan and does not require rice null separating machine.
3. Distance adjustment by lead screw mechanism is accurate.
Main technical parameters of the huller machine:
| | | | |
| --- | --- | --- | --- |
| Type | Capacity (Kg/h) | Power (Kw) | Notes |
| HD4-5 | 1300-1600 | 4-5.5 | |
| HD7-5 | 3000-3500 | 7.5 | |
The Rice Husker and Polisher Machines works with perforated screens:
A comprehensive equipment for rice –processing enjoy the following features:
1. Hull chaff and polish rice at one time.
2. Easy to operate, less consumption, high capacity, low noise.
3. Designed with rubber roller that rice has low breakage.
4. Low temperature when working.
5. Rice with less bran shorts, low breakage, high first class sorted rating.
Our perforated sieve screen can work with three types of rice polishers: Water Rice Polisher / Mist Rice Polisher / Silky Rice Polisher. Mainly used for creating a "silky polished" & sparkling white rice.
Main technical parameters of the polisher:
| | | | |
| --- | --- | --- | --- |
| Type | Capacity (Kg/h) | Power (Kw) | Notes |
| HD25-32 | 2500-3200 | 30-37 | |
We provide full range of perforated metal screen for processing of rice.
For rice grader screen with oblong holes,
click here
.
For comprehensive milling plant for rice and other grains,
click here
.