Perforated Metal Styles
Perforated Materials:
Perforated Metal Products
Technical Terms:
Other Sheet Metals
Processing Machines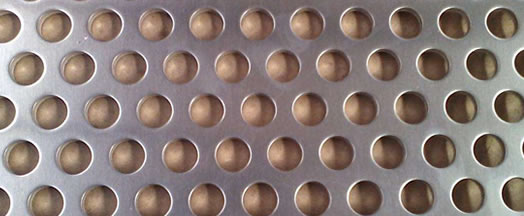 Stainless Steel Tube Perforated - 316 Stainless Steel Perforated Tube, Perforated Tube SS 304 and Tube Racks
Stainless Steel Perforated Tubes are manufactured by welding of perforated stainless steel materials into cylindrical or tubular form, used mainly for vehicle exhaust system, filter screen, architectural and other industrial uses. Perforated stainless steel tube is also written as Perforated Stainless Steel Pipe or Stainless Steel Perforated Tubing.
Stainless Steel 304 Perforated Tube Racks - Round Tube
Perforated tubing ss 304 for test tube racks
Material specifications:
Tube, 1.5" round, 1/16" perforated 304 S/S, 24 ga. 1/8 cntrs, 23% open.
6 feet lengths
Tube, 1.5" round, 3/32" perforated 304 S/S, 24 ga. 5/32 cntrs, 33% open.
Standard length in 6 ft.
SS perforated test tube racks can be made in 316 or other grades, the perforatation can be round, square or customized.
Perforated Tube for Dyeing Style Process
Perforated pipe used in dyeing autoclave.
Internal diameter: 80 mm
Thickness: 5 mm
Perforated height: 400 mm
Hole diameter: 5 mm or 10 mm
Perforated pattern: staggered
Material: stainless steel
Hygienic Perforated Stainless Steel Tubing
Perforated stainless-steel tubing used in pipework to ozonate cold deionised water.
Ozone gas is introduced into the water by means of a venturi method into a recirculated ozonated water from the tank. Inside the tank, the ozone-rich water exits at the opposite side of the tank relative to the suction side for the recirculation line. The tank is approximately 4 metres wide and 4 metres high. The recirculation pipework is 1 inch in size.
Material: 316 (Austenitic) used in the tank
Hygienic connection – end to be tube or pipe.
Perforated Tubes for Scientific Experiment
Dimensions 5 or 6 cm long, ID 3 cm
Thickness perhaps 0.05 - 0.1 cm.
Tubes perforated with small holes perhaps 0.2 cm in diameter
High transmission, min. 70%.
Holes square or rectangular.
Material: Stainless or aluminum, copper
Perforated Screen Filter Tube
Measurements below:
40" inches long
4" and 7/16" inches diameter
Stainless thickness 1.55mm 316
Screen hole size 3.15mm
Upper sleeve size 26.42mm
Centre sleeve size 9.69mm
Lower sleeve size 17.31mm
Perforated screen tubes in 316 stainless steel
316 SS Perforated tube
10/ 3" OD x #16 GA wall 316 SST perforated tube
1.8"diameter x 3/16" staggered centers
40% open area.
Perforated Stainless Steel tubes
Perforated tubing:
Perforated Tubes ID - 45 mm
Perforation hole diameter - 2.5 mm
Round S.S. mesh Perforated Tube
6" round S.S. mesh tube
Approximately ½" x 3/16" holes
We also supply straight sheets with the structure
Perforated 6" tube with the ½" x 3/16" holes
Stainless steel perforated tube is also used in exhaust and muffler of vehicles.
Perforated Stainless Steel Tubes / Pipes have following features:
1. Easy to wash and Reusable
2. Uniform pore size distribution
3. Good air permeability
4. High filter efficiency
5. Heat Resistance
6. High corrosion resistance