Perforated Metal Styles
Perforated Materials:
Perforated Metal Products
Technical Terms:
Other Sheet Metals
Processing Machines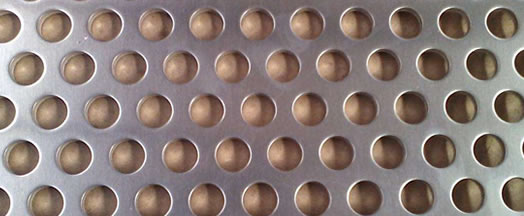 Porous Multi-functional Perforated Metal Strainer Baskets for Tea, Rice and Pasta
Hengda mainly supplies three types of perforated strainer baskets, mainly made of perforated stainless steel plate or zinc plated steel sheet. According to uses, they are tea strainers, rice colanders and pasta strainers, illustrated as following.
Stainless Steel Tea Strainers
This product is designed to filter the tea, the original tablets of coffee, brine ingredients and the soup pot, herbs and so on. The uniformly punched round hole can effectively prevent the spread suspensions and enable a convenient drink for people.
Material: 304 and 316 punched hole plate
Top diameter: 60-83mm
Bottom diameter: 39-55mm
Height: 41-121mm
Features:
Beautiful and smooth;
Heat-resistant, suitable to high temperature;
Corrosion-resistant, wear resistant, easy to clean;
No rust and discolors infuser.
We can also provide various tea ball strainer, filter, tea infuser and colander made of ss mesh wire.
Stainless Steel Perforated Rice Colander with Handles:
We offer ss perforated plate processed rice colander basket for kitchen filter uses. The metal colanders are easy to clean with excellent polishing bright technology and choice material. It offers unsurpassed heat distribution to maintain dishwasher safe. Main material is stainless steel 210 highly mirror polishing treatment, tempered glass lid. Suitable for hotel, restaurant, party and so on.
Perforated Steel Colander Sizes:
16.5x6.3cm;
19.5x7.5cm;
22.5x8.5cm;
25.5x9cm;
28.3x9.5cm;
31.5x10cm;
34.5x10.8cm;
37.3x11.4cm;
40.7x11.8cm.
Double Handle Perforated Basket Strainer for Pasta and Spaghetti Kitchen Uses
Essential Accessory for Commercial Pasta Cooker.
Ideal for Food Service, Commercial Kitchens, Schools, Canteens, Bars, Cafes, Restaurants, Hotel Application or any area that catering equipment accessories is required.
Stainless Steel 201 or 304 Material:
Size: 280x145x180mm = 11x5.7x7.1 inch
Handle: Black PP handle
We also supply fryer basket, frying basket, sediment basket and various pasta basket strainers.