Perforated Metal Styles
Perforated Materials:
Perforated Metal Products
Technical Terms:
Other Sheet Metals
Processing Machines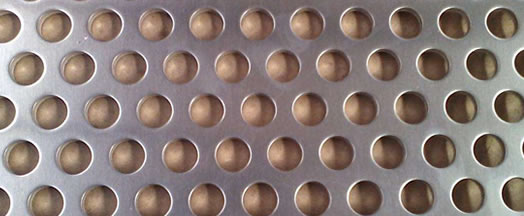 Perforated Stainless Steel Sheets, Screen, Slot Perforated Mesh
Perforated stainless steel sheets are popularly used in manufacturing of sieves, screens, vent grille, metal guards, metal diffusers, filters and decorative metal curtains.
Features: Perforated stainless sheets are lightweight, rust free, corrosion resisting, and is easily customizable. A variety of hole patterns, materials and gauges are available for the customers choice.
Uses: Stainless steel perforated sheets are widely used for ventilation, guarding, covers, screening, sifting, sound absorption panels, auto cars, decoration, in chemical, pharmaceutical, coal mine, filtration, architectural and various industries.
It is manufactured from stainless steel sheets that are pressed through a die with the appropriate hole size pattern.
Materials: Stainless Steel of Various Grades, AISI 304, 430, 316, etc.
Sizes and Specification: We can manufacture perforated ss metal sheets according to your specific demands. Contact us for detail.
Patterns for Perforated Stainless Steel: The perforated round hole pattern is the most popular style for metal sheets, square, slotted holes and various special patterns are also available.
Decorative patterns:
Combined pattern for decoration effect ( round hole and slots):
We supply following stainless steel perforated sheets:
Stainless steel perforated in round staggered holes
Hole size to be at or about .030" and a gauge of 18 or 19.
Pattern: Round staggered holes.
304 Stainless Steel Perforated Sheet, with Straight Holes


0.036" Thick sheet, 0.25" Dia Holes
1" Holes, center to center
5% open area
48" x 48" Sheet size
Stainless perforated sheet with 0.020" holes
Specs for the perforated sheet, see attached drawing. 0.020" holes and as much open area as possible.
SS Dimple Perforated Sheet
3'x10' 16 GA
Material: 304 SS
Pattern: Dimple perforated
Stainless steel perforated screen to make hammermill screens
Hole size 050"
Perforated stainless, sheet thickness - 1.0 or 1.5 mm. Holes - RV1.5 or RV 2.5.(перфолист рулоны)
Stainless steel round hole perforated sheet
Hole Dia.: 0.8mm
Pitch: 1.8mm
Sheet thickness: 0.5mm
Perforated SS Sheets, Triangle Opening
Specifications as bellow :
Sheet size = 1.47 X 1.00 Meters
Thickness = 3.00 mm
Material = Stainless steel 304
Holes : Triangular
Dimensions : U1=4.5 mm , U2=5.5 mm , R = 4.5 mm
Perforated Sheet: SS316L Grade
Perforated stainless steel sheet, Grade 316, 4mm Hole, 2mm, Thickness, 60% filtration, Size 4" x 8"
Perforated stainless steel (316 grade ), with a hole no larger than 2.5mm and an open area of appx. 60%.
Perforated sheet 2.5mm Thk
Width : 1000mm
Length : 2355mm
Ø Stainless Steel Sheet 2.5mm Thk
Width : 1000mm
Length: 2400mm

Stainless Perforated Screen 5 to 10 Microns Size 24"x 20"
Stainless Steel Perforated Screen 70 to 80 microns Size 24"x 20 "x1.6mm thick.
Perforated stainless steel, flat mesh panels
Flat sheet / panels available in the hex perforated mesh, square open mesh and slot perforated mesh
Stainless steel hexagonal sheet

Perforated metal facade panels, Sheet in stainless steel
9 mm holes, 1780 x 2030mm

Perforated slotted stainless steel
6 inches x 36 inches
16GA SS perforated with 1 1/4" staggered holes1/8" x 1" slotted holes 304 stainless steel perforated sheet,staggered,48" x 120" sheet.
Perforated ss mesh with diamond opening

Perforated sheet 1mm with approximately 280 holes x inch2