Perforated Metal Styles
Perforated Materials:
Perforated Metal Products
Technical Terms:
Other Sheet Metals
Processing Machines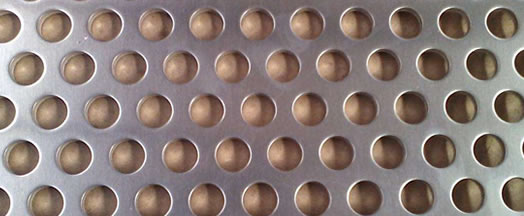 Perforated Stainless Steel
Perforated stainless steel sheets can be used in many different applications; including screens, diffusers, guards, ventilation, and even decoration.
Features: Perforated sheets are lightweight, attractive, economical, and is easily customizable. A variety of hole patterns, materials and gauges are available for the customers choice.
Patterns for Perforated Stainless Steel: The perforated round hole pattern is the most popular style for metal sheets, but it is also available in square and slotted holes.
Uses: Stainless steel perforated sheets are perfect for ventilation, protection and decoration. It is manufactured from stainless steel sheets that are pressed through a die with the appropriate hole size pattern.
Materials: Stainless Steel.
Sizes and Specification: We can manufacture perforated metal sheets according to your specific demands. Contact us for detail.