Perforated Metal Styles
Perforated Materials:
Perforated Metal Products
Technical Terms:
Other Sheet Metals
Processing Machines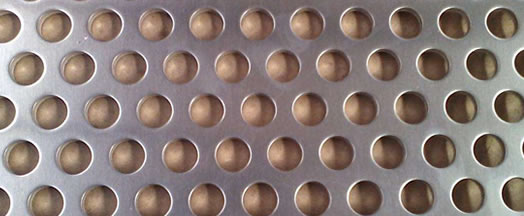 Perforated Cable Tray
Perforated metal channels are commonly fabricated into Cable Trays (Channel Trays, Ladder Trays and Bridge Trays) for cable wiring protection. Perforated Channel Cable Tray has rectangular or round hole commonly punched inside the sheet body to allow air flow. This is a rigid solid slotted metal support for wire cables and optical fibers providing good covering for the telecommunication lines. Hengda can supply channel trays in stainless steel or carbon steel with various hole patterns and sizes. A wide range of perforated cable trays can be made for customers specific requirements.
Material:
Q235B Steel (Chinese standard steel), Stainless steel 304, SS316 & SS316L
Surface Finish of Perforated Channel Trays:
Electro zinc plated steel cable trays for indoor use to BS EN 12329-2000, 12microns thick;
Powder coated carbon steel perforated trays for indoor use to JG/T3045-1998, between 6 and 10 microns thick;
Hot Dipped Galvanized Steel for outdoor use to BS EN 1461-1999, between 60 and 80 microns thick
Electrolytic Polishing – for outdoor uses stainless steel perforated channel trays.
| | |
| --- | --- |
| | |
| Perforated Steel Channel Tray | Channel Cable Tray |
| | |
| | |
| Cable Tray Covers | |
Specification:
| | | | | |
| --- | --- | --- | --- | --- |
| Model | W | H | L | Thickness |
| CT050TR | 50 | 12 | 3000 | 1.0 |
| CT075TR | 75 | 12 | 3000 | 1.0 |
| CT100TR | 100 | 12 | 3000 | 1.0 |
Hengda Perforated Metal Factory is an experienced China supplier of various kinds of cable tray according to the drawing and requirement of customers.
The advantages of our Perforated Channel Cable Trays:
1. Low cost, significant cost savings compared to standard traditional tray products.
2. Light in weight, wide range of sizes.
3. Fast heat dispersion.
4. Strong enough to withstand short circuits. Provides strength, rigidity without additional hardware.
5. Adapts to difficult architectural designs to accommodate changes in direction and elevation of cable runs.
6.Flexible, easy and fast installation. Design allows cable exit or entry at any point.
7. Cables can be secured to clamps or ties.
8.Various hardware accessories available to fix, support and install.
9. Safe smooth edge design to protect cable.
10.Easy for line check and cleaning , easy maintained.
All sharp ends are cut off to protect cables. Weight loading capacity is 27% stronger than traditional cable trays and cable ladders.
Application:
The electric channel cable tray system is widely used for construction projects, such as laying electrical wire and cable. Making the lay of the electric wire, electric cable and pipeline achieved the universalized level.
Perforated Metal Materials We Use for Producing of Channel Cable Trays and Ladder Trays:
We perforate a wide range of round, square, slotted, decorative and even odd shaped perforations from a numerous metal sheets. The most common percentage of open area is between 30% and 50% although more extreme open areas are available depending on the perforation and the needs of the cable tray products for ventilation and strength.
| | |
| --- | --- |
| | |
| Perforated Ladder Cable Tray | Ladder Tray with Perforated Round Holes Ventilation |