Perforated Metal Styles
Perforated Materials:
Perforated Metal Products
Technical Terms:
Other Sheet Metals
Processing Machines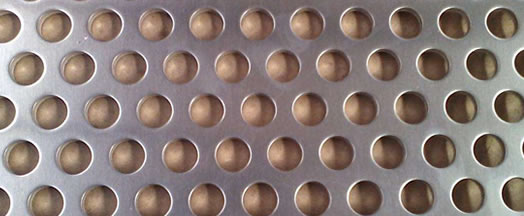 Perforated Metallic Architectural Mesh Panels
We supply customized and modular perforated metal cut sheets for interior and exterior architectural projects.
Perforated metal sheet makes perfect architectural decoration screen materials with the features of flat surface, strength and a wide choice of opening patterns.
The metal mesh sheets are typically used for decoration and security, as wall cladding panels, window and door mesh grille, flooring, partition panels, shading screen panels, facade panels and other structure construction.
In decoration of modern buildings and high grade hotels, perforated metal sheets in aluminum and stainless steel are loved by the designers and architecture experts in decoration.
Materials: Stainless steel, aluminum, copper, carbon steel, anodized metal.
Sizes: Various.
Opening: Round, diamond, square, hexagonal, plum flower, decorative.
Perforated Metal Sheeting for Architectural Decoration with PDF drawings illustration.
PRIME STAINLESS STEEL GRADE EN. 1.4878 PERFORATED SHEETS
Staggered Holes and Sizes in attached PDF.
DECORATIVE PERFORATED STAINLESS STEEL SECURITY SCREENS
Perforated Panels Decoration for Construction Section Drawing
Perforated Stainless Steel Security Screen for Windows Project
STAINLESS STEEL 304 PERFORATED TUBING
Stainless Steel 304 Perforated Tubing for Wire Racks Construction. Detail specifications of the round tube as described in the attached PDF
.
PERFORATED METAL SHEET ENGINEERING MATERIAL IN CARBON STEEL
Perforated metal sheet in carbon steel, square hole and rectangular holes slotted plate in one panel. Construction engineering material. Details in attached drawing
.
PERFORATED ALUMINIUM SHEETING FOR SECURITY WINDOW GRID
Perforated aluminum sheet for architectural security netting construction, .063 gauge, 1/2" square holes, approx. 3/16" solid grid lines. Dimensions of the cut aluminium sheets in attached PDF
.
SLOTTED PANELS FOR METALLIC WORKS ( DOORS, GATES, SHADES AND OTHER ARCHITECTURAL PROJECTS)
Perforated Metal Sheets 3mm Thick in Diamond Pattern for Architectural Decoration. Details in attached PDF
Steel Sheets Perforated Sizes and Models for Architectural Sun Shade Screen in Excel File.
DECORATIVE PANELS FOR EXTERIOR FACADE CONSTRUCTION

Decorative Screen Panels in Perforated Anodized Metal Steel, for Exterior Facade Project, Plum Flower Shape or Other Decorative Pattern, Customizable Scales. Elevations and details in attached PDF.
Perforated-Metal-Screens-Exterior-Elevations
HOLE PATTERNS OF PERFORATED FACADE PANELS
Decorative holes for perforated panels include Round, Square, Hexagonal and etc. Details in attached PDF file
.