Perforated Metal Styles
Perforated Materials:
Perforated Metal Products
Technical Terms:
Other Sheet Metals
Processing Machines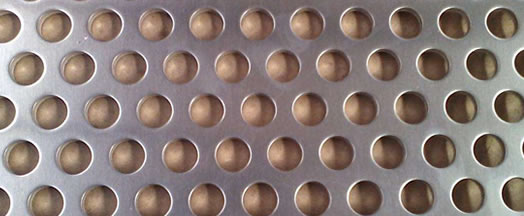 Perforated Metal Plates for Tubes
Hengda mostly uses four types of metal plates for further stamping and perforating: rolled plate, flat plate, stainless steel plate and aluminum plate. The perforated plates are then processed into tubes, baskets or panels for practical industrial uses.
The different plate material can be perforated into various hole sizes, pitches and porosity due to the different features of metal materials, also due to the different application requirements. We are providing below a reference table for the perforated plates for making of filter tubes.
The common perforated plates used for making of perforated tubes:
Plate Material
Thickness of Perforated Metal Plate(mm )
Punched Hole
Dia.(mm)
Pitch
(mm)
Sheet/Plate
Width(m)
Porosity
(%)
Metal Plate Weight
(kg/m2)
Rolling
Plate
0.2
6
2
1
44
0.88
0.35
5
4
1
24
2
0.45
6
3
1
35
2.5
0.8
3
3
1
19.6
3
Flat Plate
0.5
1
1
1
19.6
3.14
0.55
1.1
2.2
1
22.67
3.411
0.55
1.5
2.8
1
26.03
3.268
0.8
1.5
1.5
1
19.6
5
0.8
2
3.4
1
30.78
4.465
1.5
2
2
1
19.6
9.4
1.5
5
8.0
1
35.39
7.843
3
5
16
1
19.6
18.8
Stainless Steel Plate
0.5
1
1
1
19.6
3.14
0.8
1.5
1.5
1
19.6
5
1
2
2
1
19.6
6.28
2
5
16
1
19.6
6.28
Perforated Aluminum
Plate
0.5
1
1
1
19.6
1.08
0.8
3
3
1
19.6
1.72
1.6
2
2
1
19.6
3.24
3
4
16
1
19.6
4.23
| | |
| --- | --- |
| | |
| | |
| Stainless Steel Plate Material for Making of Filter Tubes | Round Hole Perforated Tubes |