Perforated Metal Styles
Perforated Materials:
Perforated Metal Products
Technical Terms:
Other Sheet Metals
Processing Machines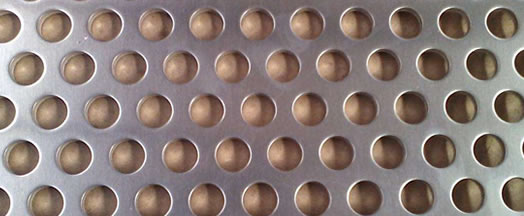 Perforated Metal Ventilation Grille for Architectural Vent System and Strainers
Hengda as a China manufacturer of perforated metal products, offers a wide range of metal ventilation grilles made of slotted and perforated metal sheets. The metal materials can be aluminum, brass or stainless steel. Our metal grilles are used in supply, return or exhaust air, also for Air Diffusers, swirls for architectural purposes.
They are supplied in standard panel or custom size.
Finishes for Hengda Perforated Ventilation Grille:
We can supply anodized aluminum;
Polished and lacquered finishes for brass perforated grilles;
Powder coated steel or galvanized steel;
Stainless steel with standard surface treatment.
Materials for Perforating Vent Grilles:
Stainless steel sheet, galvanized steel sheet, aluminum sheet, brass/copper/phosphor bronze and Other Metals.
Hole Types:
Round; Square; Rectangular; Decorative. Special designs.
Open Area of the Metal Vent Grilles:
This is an important factor to determine the quality and flow rating of air ventilation. The most common percentage of open area is between 30% and 50% although more extreme open areas are available depending on the perforation. Sometimes the percentage open area has to be kept lower for increased strength and flatness of the perforated metal sheet especially when galvanizing.
Hole size(diameter) and Pitch of perforated metal grilles: The maximum sheet thickness could be up to 25mm, the most common thickness rang is 0.3- 10mm. Pitch: more than 0.2mm
Features of Perforated Grilles Sheets: Uniform hole patterns; standard hole sizes; uniform sheet thickness; decorative effect; a wide range of metal options.
Perforated Vent Grille
We supply perforated vent grilles in all sizes, various percentage of opening and cut-sheets.
Perforated Air Vent Grille for water intake strainers
Sheet size: 1 x 2 m
Material: Aluminum and Stainless steel
Hole diameter, sheet thicknes and open area can be custom made according to requirements or samples

Aluminum Perforated Gilles with Light Weight and Uniform Round Openings

Stainless Steel Perforated Ventilation Grille, Architectural Grille Ceilings, 0.1mm Thickness, 1x2m Standard Sheet Sizes