Perforated Metal Styles
Perforated Materials:
Perforated Metal Products
Technical Terms:
Other Sheet Metals
Processing Machines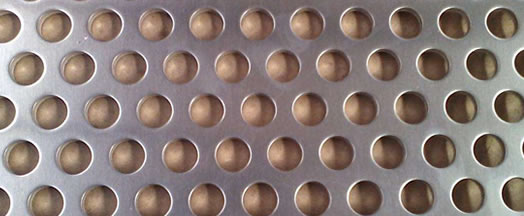 Perforated Ceiling Panels
The porous perforated metal with lightweight, good strength and rigidity makes wise choice for modern architectural designs. To improve interior sound control, the perforated metal panels can be fitted with non-woven acoustic tissue or an acoustical pad to form an efficient ceiling panel system. The perforated panels and plates are widely used by the designers in elevators, interior and out walls decoration, façade, curtains, sunshade, stairs and flooring and roofing system.

Features:
The metal sheet with decorative openings not only allows easy air flow, also adds aesthetic effect to the architectures. The perforated ceilings are sturdy and durable, they bring enhanced sound absorption and higher strength and even magnetic qualities.
There is hardly a more versatile and efficient material for enclosures than perforated metal materials.

Patterns:
We also offer all types of decorative perforated panels with square hole, round hole, slotted-rounded ends and hexagonal pattern with either a square, round or staggered pitch. These sheets are available in different hole shapes, pitch, materials, sizes and sheet thickness.

Common Materials and Sizes:
Stainless steel, carbon steel, aluminum.
Common sizes:
Stainless SUS304 and Stainless SUS316 perforated mesh with round holes staggered arrangement. 0.20mm hole diameter × 0.3mm pitch × 0.1mm thick and 1.0mm hole diameter × 1.5mm pitch × 0.8mm thick.
Stainless steel 304 perforated plate 2000 × 1000 × 0.5mm × 0.5mm hole staggered at 90°.
Architectural Ceiling Sheets of Custom Perforation, Sizes and Shapes
Perforated metal ceiling product is customizable in terms of perforation, sizes and shapes. We supply:
1)900mm x 2000mm Linear Perforated Ceiling Panel Sheet (finished white),
Ceiling for ventilation or vent.
2)Perforated stainless steel ceiling panels, 20 gauge, 304 SS, panel holes about ¼".
3) perforated metal plates with acoustic lining for ceiling applications.
4) 23 inch x 23 inch Ceiling grill made from perforated stainless material. Designed with a lip of 5/8 inch. The hole pattern is staggered . 5/16 inch hole.
5) Decorative Powdered Coated Perforated Ceiling Panels

· Minimum 70% open area
· Sheet Size: 47.25" X 23.75"
· Product can be expanded or perforated metal. Smooth edges. The panels can be replaced.
· Material: metal (stainless, galvanized or aluminium).
· Finish: metal color (stainless steel, paint or coated, mill finish, etc.)
6) Galvanized Steel Perforated Sheets Cut for ceiling and cladding panels
Material: galvanized and 50% open.
7) Perforated plates / panels for indoor and outdoor architectural applications
· Perforated metal sheet, aluminium sheet ( round hols metal sheet, honeycore type alum sheet )
· sizes 1200x2400 mm, 600x600mm. or 600mm X 1200mm.
· Application: Ceiling and cladding for showrooms and hotels.

We quote on basis per square meter or linear meter.

1/8" Perforated Anodized Aluminum Screen Ceiling Panels
Ceiling Air Diffuser Screens, 1/8" Perforated Anodized Aluminum Screen Ceiling Panels, Size 22-3/4" Wide x 47" Long complete with ¾" edged perimeter border frame, with 6 each –¼" predrilled holes (3 on each side) .
Aluminum perforated sheets to be used for ceiling tiles:
· Sheet width 64 cm, Sheet length: roll or 300 cm
· Perforation: 56 cm of the sheet width to be perforated, with 4cm from each side left plain sheet
· Aluminum sheet thickness: 1mm
· Finish: White painted ( the right one in above photo) or anodized aluminum ( the left one)

Perforated Acoustic Ceiling Installation Project in Buildings
Metal Perforated Composite Ceiling Panels of Stainless Steel, Round Hole Perforation
With acoustic fabric on back surface
Roof cladding panels for ventilation, acoustic control and decoration
Thickness:0.45 mm
Size:600mmx 600mm
Hole:2.3mm or equivalent

Mesh Sheet for Roof and Light Pool Decoration