Perforated Metal Styles
Perforated Materials:
Perforated Metal Products
Technical Terms:
Other Sheet Metals
Processing Machines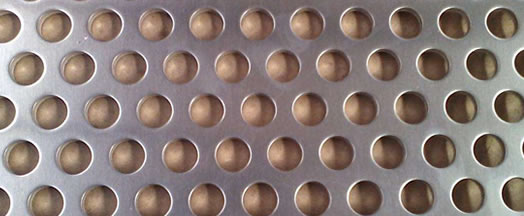 Perforated Ceiling Panels
The porous perforated metal with lightweight, good strength and rigidity makes wise choice for modern architectural designs. To improve interior sound control, the perforated metal panels can be fitted with non-woven acoustic tissue or an acoustical pad to form an efficient ceiling panel system. The perforated panels and plates are widely used by the designers in elevators, interior and out walls decoration, façade, curtains, sunshade, stairs and flooring and roofing system.

Features:
The metal sheet with decorative openings not only allows easy air flow, also adds aesthetic effect to the architectures. The perforated ceilings are sturdy and durable, they bring enhanced sound absorption and higher strength and even magnetic qualities.
There is hardly a more versatile and efficient material for enclosures than perforated metal materials.

Patterns:
We also offer all types of decorative perforated panels with square hole, round hole, slotted-rounded ends and hexagonal pattern with either a square, round or staggered pitch. These sheets are available in different hole shapes, pitch, materials, sizes and sheet thickness.

Common Materials and Sizes:
Stainless steel, carbon steel, aluminum.
Common sizes:
Stainless SUS304 and Stainless SUS316 perforated mesh with round holes staggered arrangement. 0.20mm hole diameter × 0.3mm pitch × 0.1mm thick and 1.0mm hole diameter × 1.5mm pitch × 0.8mm thick.
Stainless steel 304 perforated plate 2000 × 1000 × 0.5mm × 0.5mm hole staggered at 90°.