Perforated Metal Styles
Perforated Materials:
Perforated Metal Products
Technical Terms:
Other Sheet Metals
Processing Machines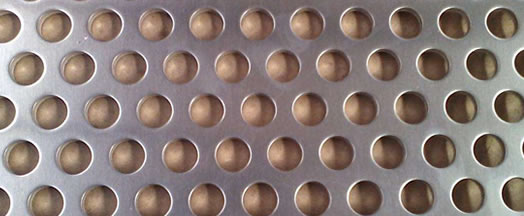 Perforated Filter Tube, Filter Cores, Plates, Sleeves, Cylinder and Other Filter Elements

Hengda supplies full range of filter components in forms of baskets, cone, cylinder, pipe, flat sheet, ring, discs, candles, cartridges. Used in air, oil, liquid filtration system.

FILTER TUBES

Hengda offers different perforated sheet metal products, including perforated metal fabricated filter tubes and flat panels for screening. Made with advanced digital controlled equipment, perforated filter tube has high precision, low difference and strong filtering. The diameter perforated ranges from 0.3mm to 100mm.

Perforated filter tubes are mainly used in sifting and grading in mine development and other industrial uses. Also used as support layer, as core of the filter or surface screen to extend the service life or enhance its strength.

Materials: Hot dipped zinc coated steel or stainless steel sheets.
Typical opening for perforated filter tube: Round

Perforated Sheet Welded or Sintered Tube used as filter media:

Perforated Pipe used as filter support liners:


304 SS Perforated Inner Support Tube for Woven Wire Cloth Pleated Polymer Melt Filter Cartridge

PERFORATED FILTER PLATES

Filter Plate: ss316
Sheet thickness: 2.0mm
Various materials and sizes available.




Filter Ring Plate: Stainless Steel 316
Hole: Square
Technical Reference in PDF

PERFORATED FILTER DISCS
Materials: Stainless steel, brass or alloy.

Perforated Brass Filter Element: sheet or round disc
Perforated brass filter, technical reference in PDF:
Brass filter disc with dims

Materials, staggered pattern and design can be customized.

PERFORATED SHEETS AND CORES

Flat perforated plates in thickness 0,75mm, 1mm
Filter core with outer diameter 110mm, wall thickness 1,5mm, length 297
Core outer diameter 110mm, wall thickness 1,5mm, length 429
Technical reference in PDF:
Hot Dip Zinc Galvanized Filter Cores


Core with out. diam.95mm / wall thickness 1,5mm length 499mm.
Material: Hot Dipped Galvanized Steel Perforated

PERFORATED SHEETS

Stainless perforated sheet for dishwasher metal filters
Material: Stainless steel
For air and oil filters

Perforated sheet for our Disc Filter and Table pan filter:

Perforated Sheet Disc Filter with PDF reference.
Material: 10SWG perforated sheet in mild steel

Table Pan Filter
Material: Stainless steel perforated plate 5mm, 304, 316ss
Pattern: Punched slot hole
Drawing reference in PDF:
Mild steel perforated filter

PERFORATED CYLINDER/PIPE AS FILTER SLEEVES

Square Hole Cylinder:


Material sus304, 13mm Square hole mesh, punched sheet welded cylinder for liquid filtration industry, as outer protective sleeve for inner filter cloth, 1mm sheet thickness

Round Hole Sleeves:


Round hole sheet, galv. steel, pipe, straight line welded

PERFORATED TUBE FILTER PARTS

Cylindral filter screen, round hole perf, stainless steel

Galvanized Steel Perforated Tubes for Industrial Filters Support:

Tubes for Candle Filter Elements:

STAINLESS STEEL SINTERED MESH FILTER

Perforated plate material SUS 304, used with stainless steel woven wire meshes SUS316 or SUS 316L (AISI316L) or special alloys like Hastelloy, Monel, Inconel, to form sintered mesh sheet for high precision filtration. They are sintered together through vacuum sinter, compression and rolling and made into a kind of porous material.

5 Ply Sintered Mesh Filter Cartridge processed with sintered metal cloth laminated sheet as filter media:
Material: Standard material is SUS316L (AISI316L).
Pore Size: 5 Micron Nominal,
Filter Material: Sus 304
Fluid: Natural Gas,
Temp: 70-80 ° C.
Results Expected: 5 Micron.