Perforated Metal Styles
Perforated Materials:
Perforated Metal Products
Technical Terms:
Other Sheet Metals
Processing Machines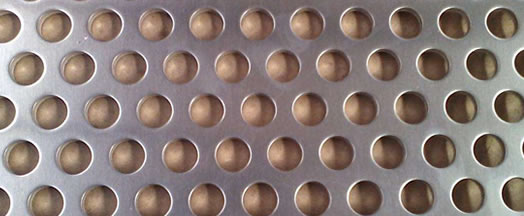 Perforated Acoustic Screen Panels
Perforated metal is a popular Architectural Mesh for making of noise control panel walls and curtains. The flat metal panels make a high efficiency solution for acoustic screens. The metal panels can be made from Stainless Steel, Carbon steel, Aluminum and alloys. The opening patterns can be slot, round, square or decorative. The metal panels do not only absorb sound like sponge, they offer visually attraction effects also with decorative pattern and designs.
Benefits of Using:
Perforated stainless steel and aluminum as popular acoustic screen panel materials, are easy to maintain, have a strong contemporary "industrial" look, and function from above by hiding unsightly wires and piping.
A sound solution to constant ambient noises that surround us, and the harsh mechanization of modern life, is the acoustical advantages of perforated metals. Acoustical wall panels of perforated metal are functional and visually appealing--they really do make sound sense.
Designs:
We have a choice of designs that can add stunning good looks. The panels can be finished in a variety of ways including powder coating and edge trimmed with various sections, including finished in a wide variety of colours.
Architectural Uses: Perforated panels are available in various metals to achieve different decorative effect indoors. Checkered plates and embossed sheet metals are also popular materials for buildings and flooring uses.
We supply various acoustic screen, decorative panels, interior walls and curtains made of metal panel designs. For building of acoustic system with Hengda perforated metals, we are listing photo examples as below.
Aluminum Acoustical Panels Highway Solid Soundproof Wall

perforated metal acoustic panels sound- proof perforated sheet

perforated acoustic screen panels-magnified view

perforated aluminum acoustic screen acoustic panels

perforated metal aluminum honeycomb acoustic panel