Perforated Metal Styles
Perforated Materials:
Perforated Metal Products
Technical Terms:
Other Sheet Metals
Processing Machines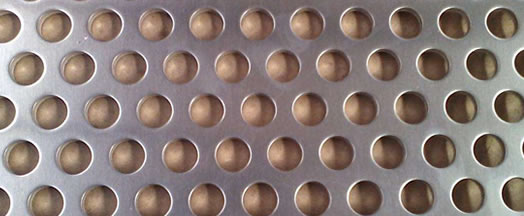 Perforated Speaker Grille - Perforatd Metal Speaker Cover
Perforated Speaker Grille - Perforated Grille for Speaker Systems Design and Manufacture
Perforated Speaker Grille refers to perforated metal sheet used as front grills or covers of speaker cabinets, also known as Speaker Cover or Speaker Mesh. Perforated grilles used for loudspeaker, woofer and other sound system can be supplied in stainless steel, aluminum and copper. The perforation or punched styles are slotted hole, honeycomb or circular.

Perforated screens for manufacturing woofer grills
Loudspeaker grille
Metal screens perforated square with the following characteristics:
Size 300 x 460 mm
Holes diameter – 2.0 mm
Thickness – 0.5 mm
Pitch 2.6 mm

Stainless Steel Grille Plate Circular Perforation
Speaker Cover Perforated Metal Grille
Type, tolerance and thickness can be customized
200x200 mm or other size to protect the speaker
Punched Speaker Grill
Hexagon sheet metal treated against rust, or stainless steel, black coated
Desgin drawing
Slotted Stainless Steel Mesh for Speaker Grills
Slotted ss mesh grills, size 14"x24"


Speaker Grille Mesh
5/64", 1.98mm, 1/8", 0.027-0.053", 0.68-1.35mm, 35.00%
Grille hex mesh
Material in stainless steel or aluminum


Speaker Grill Metal Cover
6" X 12"
Perforated Chrome plate metal
Micron perforation
Perforation honeycomb or round with a diameter of 1/16
Perforated Copper Sheets
Copper speaker grills 27.5" x 18.5".
Perforated Speaker Grills Black Coated
9 1/4", round, black metal speaker grills
Micro perforation style
Speaker grills can be size 22 3/8" X 22 3/8" or custom.
Grills can be mild steel at 16ga thickness, 8mm holes with a 60° stagger pattern
Perforated sheet cover for Bass Speaker
Speaker size: 60 x 60 cm
Metal material: Perforated or Expanded steel mesh
More sketch reference
Speaker Grille
PVC coated polyester mesh is also used for Speaker Mesh.