Perforated Metal Styles
Perforated Materials:
Perforated Metal Products
Technical Terms:
Other Sheet Metals
Processing Machines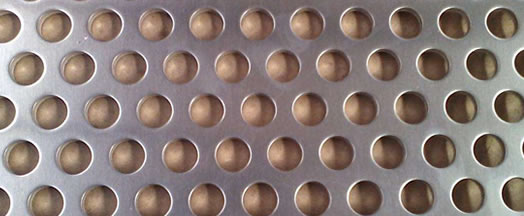 Perforated Metal Sheets, Mesh, Screen,Tubes Products
Hengda is a professional manufacturing factory and exporter of perforated metal materials in all kinds of forms for a wide range applications.
Our factory mainly produces aluminum perforated sheet, windproof screen, sound insulation sheet, stainless steel perforated sheet, anti sliding perforated plate, sound barrier sheet, microporous filter / screen plate and galvanized steel perforated plate.
These perforated metal mesh products are widely used in coal mines, drying sieve plates, instrument case, loudspeaker, filtering screen, architectural mesh panels for facade, wall cladding, ceiling, noise barrier, sound absorption panels, various equipments, chemical machinery, pharmaceutical equipment, food and beverage machinery, dry cleaning machines, refrigeration equipment (central air-conditioning) covers and vent parts, and construction of guard railings and staircases, flooring, and other industries.
Our Technical Capacities and Features
Our factory has a strong technical force, first-class production equipment, complete inspection system, a modern management system, an expert management and production staff to supply quality perforated metal mesh products.
We supply good quality products at a reasonable price with the business principle of mutual benefits. And we always value long term business relationship with reliable partners.
Our digital control punching press can produce perforated mesh sheets in carbon steel, ss, alu, galv. steel, copper, titanium with an opening min. to 0.1mm and a max. diameter to 300mm.

We have a special technology in micron hole perforation. We can produce micron hole stainless steel mesh with diameter of 0.4mm, 0.5mm, 0.6mm, 0.8mm and 1.0mm in stock for ready shipment. Our micro opening perforated ss speaker grille is supplied to many famous automoible speaker systems.
We can also supply superior quality anti-slippery diamond perforated sheets at 0.7 to 1.0mm thickness with high strength and excellent property.
Our aluminum perforated sheet with powder painting, anti skidding safety perforated flooring and stainless steel perforated sheets with micron holes are exported to Australia, American, Europe, African countries and are well received.
We excert production and inspection according to international perforation standard and ensure our perforated steel and aluminum products supplied with precise and uniform perforation, hole arrangement, clear surface with no blur and good level.
We have establish our reputation among markets by exporting in large quantity to Japan, the United States, South Korea, European Countries, Africa and many other countries.
Perforated Metal Materials and Major Uses
Perforated Metal Sheets find extensive uses which can be classified by five major categories:
Architectural Perforated Panels;
Industrial and Machine Parts;
Perforated Metal Screen and Filters;
Metal structural works;
Sound / noise control panels for transport ( railway, highway, motor) facilities.
Forms of Perforated Metals can be summed up into three major types:
Perforated Sheets / Panels / Plates;
Perforated sheets in coils / strips/ rolls;
Perforated tubes / pipes/ cylinders.
Perforations can be classified into three types:
Flat perforation with flat holes of various desings: Circular, semi circle, rectangular, triangle, decorative, special;
Raised perforation as dimple, drum, checkered plate;
Slot perforateion with thin lines.
Perforated Metal Mesh / Screen can be supplied in thin films or thick sheets:
Micron Perforated Sheet, Light type;
Standard perforated sheet;
Heavy coarse perforated metal sheets.
Light type perforated ss sheets with micron perforation are mainly for speaker covers. Decorative and special perforated metal plates are mainly for architectural designs. Galvanized steel perforated sheets are mainly for factories construction flooring or stair cases. Light weight aluminum perforated sheets are popularly used in setting up highway noise barrier system.
Perforated Metal Styles
Perforated Materials:
Perforated Metal Products
Technical Terms:
Other Sheet Metals
Metal Punching Machines and Related Parts
We supply perforated metal machine and expanded metal sheet production equipment for customers in Chile, Qatar, Saudi Arab, Brazil and other countries.