Perforated Metal Styles
Perforated Materials:
Perforated Metal Products
Technical Terms:
Other Sheet Metals
Processing Machines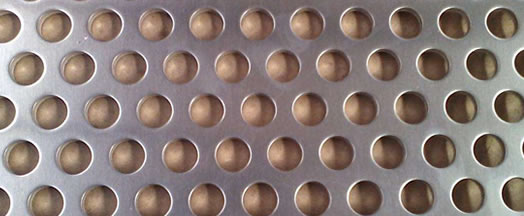 Perforated Aluminium Mesh Screen Panels Powder Coated Black for Architectural Mesh
We supply perforated aluminum mesh sheet coated with black vinyl powder mainly for architectural decoration uses. The aluminium perforated sheet can be punched to decorative patterns and then laser cut to precise sizes according to the projects requirements. Typical applications include both exterior wall facade and wall decoration and interior curtains and walls decoration.
Typical export size is slotted hole perforated sheet in 2mm thick aluminum, powder coated black. 300mm width and 25 lineal meters length with a solid border down both long sides of 30mm. The holes are approximately 5-6mm diameter and about 22-25mm long. The decorative aluminum sheet can also be etched screen with precise holes.

Facade Screen with Perforator Hole or Etched Hole

Aluminum metal mesh perforated with powder coating for decoration uses
Perforated aluminum screen has several advantages as decorative mesh sheets:
1, Light weight material;
2, High precision pattern and perimeter treatment;
3, Easy to clean and maintenance;
4. Full colors options: Any RAL colors for your choice with powder coating;
5. Nice looking;
6. Good strength;
7. Low production cost;
8. Corrosion resistance, fireproof, moisture proof, mould proof, suitable for building and various architectural designs.
Major Applications:
1. Architectural interior decoration projects: Acoustic sound control panels, metal mesh curtains, TV background panels, cabinet door decoration, exhibition shelf, furniture, decorative mesh ceiling, wall covering screen and so on.
2. Building decoration panels for exterior walls: Facade screen panels, sun screen.
3. Public space decoration for railway stations, dock, airport and government office building, etc.
Materials: Aluminum sheet
Thickness: 0.5 to 20mm
Max. Size: 1800mm x 4000mm
Surface treatment: Powder coating
Custom size available, OEM, order with coming drawing or sample accepted.
Perforated Powder Coated Aluminium Screen
Hole size: 12mm diameter
Opening: 50.2%
Pitch: 15mm 90 degree
Thickness: 2mm
Perforated Aluminum Panel sizes:
4400mm x 1050mm
1390mm x 1050mm
Perforated Aluminum Sheet Mesh Screen With Decorative Patterns
Perforated Aluminum Sheet, Black Anodized


Perforated aluminum for decorative curtain / drapery, size 40" wide x 48" , 3/8 Round hole design spaced either 3/8 or ½" . Sheet thickness 1/8".
Aluminum Screen Mesh, Black Anodized or Painted Black
Aluminum screen with a mesh opening equal to or less than 2mm x 2mm (0787 x .0787 inches) center to center with a wire diameter of at least .45mm (.0177 inches). Finish: Black anodized or painted black.
Decorative Aluminum Panels, Aluminum Natural Color or Black Painted
Specifications:
12" x 36" aluminum decorative panels
2.0mm thk perforated aluminium panel
0.06" aluminum panels, perforated in slots pattern:0.5" to 1" long
0.06" aluminum panels, perforated in circles pattern:0.125 to 0.25"
Aluminum perforated sheet, 1mm thickness
Sheet width 64 cm
Sheet length : roll or 300 cm
Perforation:56 cm of the width to be perforated and 4cm from each side plain.
1/4" Round Opening perforated aluminum on 3/8" Centers
48" x 120" x 0.125"
60" x 120" x 0.125"
Aluminum slotted panels, 2'x 4' x 1/8" , slot size 1/8" x ¾" staggered.
Aluminum perforated sheets with triangle opening .040 thick ,45% pening,3'x8'.
3' X 12'X.063 Perforated Aluminum Sheets 3/16" holes; 5/16" Staggered
1mm .060 Aluminum mesh panels in the following patterns:
Melon Seeds pattern plate
Embossed pattern plate with 1' diameter-1.5" max diameter raised pattern and other decorative embossed plates available.
Aluminum Perforated plate 3/16" thick w/ 1/4" diameter holes w/ all available staggered spacing.
Perforated aluminum sheet can be punched into holes in different shapes on aluminum plates to meet different requirements.
Perforated holes include rectangular holes, square holes, diamond holes, circular / round holes, long round holes, hexagonal holes, cross holes, triangular holes, plum blossom holes, fish scale holes, slotted, raised, embossed, Star-shaped holes, irregular holes, drum holes, louver holes and special decorative shapes.
We also supply the following decorative mesh panels:
Aluminum mesh Decorative Panel & Extrusions
150mm thk. sandwich panel with PIR insulation (wall)
extruded aluminium frame 300mm x 300mm grey color
Decorative scale mesh
Cut pieces of perforated aluminum sheeting, .063 gauge with 1/2" square holes and approx. 3/16" solid grid lines.