Perforated Metal Styles
Perforated Materials:
Perforated Metal Products
Technical Terms:
Other Sheet Metals
Processing Machines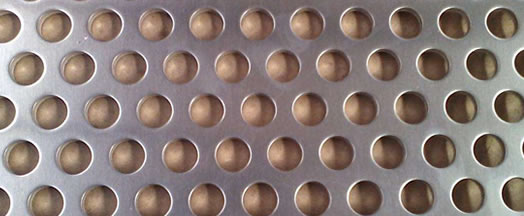 Aluminum Powder Coated Black Architectural Mesh Screen
We supply perforated aluminum sheet coated with black vinyl powder mainly for architectural decoration uses. The aluminium slotted perforated sheet can be perforated to decorative patterns and then laser cut to precise sizes according to the projects requirements. Typical applications include both exterior wall facade and wall decoration and interior curtains and walls decoration. Typical export size is slotted hole perforated sheet in 2mm thick aluminum, powder coated black. 300mm width and 25 lineal meters length with a solid border down both long sides of 30mm. The holes are approximately 5-6mm diameter and about 22-25mm long. The decorative aluminum sheet can also be etched screen with precise holes.

Facade Screen with Perforator Hole or Etched Hole

Aluminum and stainless steel slotted metal sheet with powder coating for decoration uses
Perforated aluminum screen has several advantages to be used as decorative mesh sheets:
1, Light weight material;
2, High precision pattern and perimeter treatment;
3, Easy to clean and maintenance;
4. Full colors options: Any RAL colors for your choice with powder coating;
5. Nice looking;
6. Good strength;
7. Low production cost;
8. Corrosion resistance, fireproof, moisture proof, mould proof, suitable for building and various architectural designs.
Major Applications:
1. Architectural interior decoration projects: Acoustic sound control panels, metal mesh curtains, TV background panels, cabinet door decoration, exhibition shelf, furniture, decorative mesh ceiling, wall covering screen and so on.
2. Building decoration panels for exterior walls: Facade screen panels, sun screen.
3. Public space decoration for railway stations, dock, airport and government office building, etc.
Materials: Aluminum sheet, Stainless steel sheet, steel
Thickness: 0.5 – 20mm
Max. Size: 1800mm x 4000mm
Surface treatment: Powder coating
Custom size considered, OEM welcome, order with come drawing accepted.