Perforated Metal Styles
Perforated Materials:
Perforated Metal Products
Technical Terms:
Other Sheet Metals
Processing Machines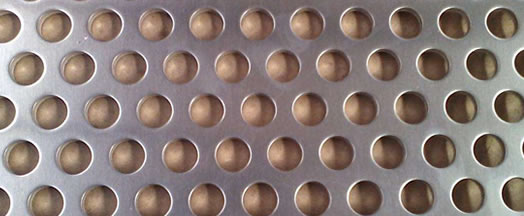 Bridge Slotted Screen Pipe:
Bridge slot screen have bridge opening arranged in rows and are staggered to reduce the negative effect on the screen's strength. Typically the slots are punched in a flat sheet that is subsequently rolled into a tube and welded. The sand and gravel can't easily block the slot because of the special bridge style design. This kind of slot screen has great mechanical strength and water entering capacity. Meanwhile, bridge slot screens are light, cheap and easily operating. Regarded as the best choice of well tube filter, they are widely applied in a variety of fields in the developed countries.




Composition and Features:
It is composed of central tube, precise punched slotted screen jacket and stainless steel ring. It has characteristics such as exquisite controlled hole, high percentage of open area, strong integral strength, resistance to deformation and resistance to corrosion and high reliability etc.
Bridge slot screens enjoy many Unique Advantages when compared with other kinds of screens, and they can be listed as follows:
•High strength through resistance to twisting, compressive, and tensile forces. A smooth bore that does not impede the passage of probes, tools, etc.
•The special structure of the slot makes it difficult for particles to get stuck in the slot, thus bettering its discharge capacity.
•The special bridge slots of screens help improving their mechanic strength.
•Application of anticorrosive coasting will prolong the span lift of wells.
•Slots and the diameter of bridge slot screens can be custom made to satisfy your needs.
•Convenient to operate owing to various connecting methods between screens.
•Lighter in weight and lower in price.

Slot Sizes
Between 0.5 mm / 0.002 in. and 5mm / 0.2 in., depending on the wall thickness
Materials of Construction
All types of steel such as carbon steel, galvanized steel, coated steel and stainless steel types 304, 304L, 316, 316L & 430, for example.
Sizes: Pipe diameters from 4 in to 80 in
Pipe wall thickness from 3 mm / 0.12 in. to 10mm / 0.4 in.

Applications:
Formations with large particle sizes
Large diameter wells
Low to medium flow rates

Please contact us today with your requirements.