Perforated Metal Styles
Perforated Materials:
Perforated Metal Products
Technical Terms:
Other Sheet Metals
Processing Machines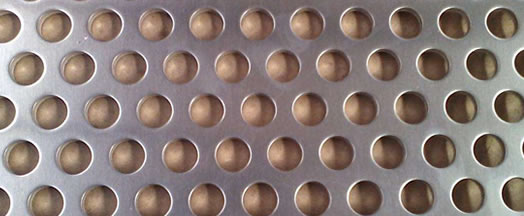 Checker Plates in Aluminum, Steel, Stainless for Anti Skid Wall Way and Industrial Flooring
Chequer plate makes ideal material where a large area needs to be covered, either it i
s on the floor or to protect an area of wall, which could be damaged due to movement of goods i.e. pallet trucks in a warehouse environment and the interior of a truck/van.
Features and Application: Chequer plate or checker plate is both slip-resistant and decorative. We can supply perforated checkered plates to allow drainage, or fabricated step plates or tread plates.
Standard Sizes: We supply chequer plate (checker plate) in sheet thickness from 2mm to 6mm.
Main types:
· Stainless steel checkered plate
· Aluminum Diamond plate
· Checkered steel plate perforated metal.
Main market:
Building & construction material importers and wholesalers in USA, Australia, Europe, Asia and Other Countries.
4mm thickness Alum Perforated Checkered Sheet
4mm thickness Aluminum Perforated Checkered Sheet in Mill Finish
Grade: AA3003-H14.
Perforated plate for architectural application
Steel Chequered Plate
Non-skid steel plate, for platform truck flooring
Material:BS EN 10025 OF 2004 GRADE:S 275 JR

Anti-skidding plate, of hot rolled chequered steel, panel size 6x 1250 x 2500mm, thickness:6mm
Checkered Plate Perforated Metal
Perforated steel flooring for shipping container rooftop decks/walkways

Perforated metal sheet flooring: 2.4m x 3m decks, of mild steel galvanized post-fabrication, for slip resistance
AL-2024 T4 Diamond Pattern Checker Plate
Material: 2024 aluminium
Diamond Plate Resist Skid Checker Plate: diamond pattern, one bar, for walkway project

1220MM X 2440MM X 1.2MM AL-2024 T4 Diamond pattern checker plate
460MM X 2440MM X 1.2MM AL-2024 T4 Diamond pattern checker plate
Stainless Steel Diamond Plate
Stainless steel diamond (or checker) plate


4' X 8' X 1.2 MM Thick Diamond Plate Resist Skid Checker Plate

Stainless steel checkered plate in diamond pattern, 4' X 8' X 4 mm thick, material: SS304, for Russia market
(A3105) Aluminum Checker Plate, 2mm thick, five bar pattern

Five bar checkered plate, 1.22mx2.44mx2mm thick
Full specifications per attached file.
One Bar Stainless Steel Checkerplate, Grade 304/304L
304/304L stainless steel Hot Rolled checker plate
Material: SS304, 304L

Sheet size:
3.5mm 304/304L Hot Rolled 1220 x 2440 (1 bar)
4.5mm 304/304L Hot Rolled 1220 x 2440 (1 bar)
6.0mm 304/304L Hot Rolled 1220 x 2440 (1 bar)

Hot Dip Galvanized Steel Checker Plate
(13x) 3/8" thick x 16" x 24"
(4x) 1/4" thick x 8" x 16"
(17x) 1/4" thick x 16" x 24"

Aluminum Skid Plate and Aluminium Coil
Skid Checker Plate
Material: A1050
Plate size: 3 x 1200x 2400mm

Aluminium checkered plate AA3105
Patterns: Five bar
2.5mm x 4'
3.0mm x 4'
4.0mm x 4'
4.5mm x 4'
Aluminium Coil AA1100 -H14
0.3mm x 4'
0.4mm x 4'
0.7mm x 4'
0.8mm x 4'
1.0mm x 4'
1.2mm x 4'
1.5mm x 4'
2.0mm x 4'
2.5mm x 4'
3.0mm x 4'
4.5mm x 4'
Carbon Steel Chequered Plate

Chequered plate size 10mmx1500x6000mm, material:Carbon steel
Chequered plate raised pattern.
Chequered pattern according to attached file.
Chequered Plates - 316L
Chequered stainless steel plates :
Dimensions: 2438x1219mm
GRADE : 316 L
Sheet thickness 3.5mm, thickness of raising 1.5mm, total thickness of the plate: 5mm
Drawing references in attached file.
Anti-slip Raised Aluminum Trailer Decking