Perforated Metal Styles
Perforated Materials:
Perforated Metal Products
Technical Terms:
Other Sheet Metals
Processing Machines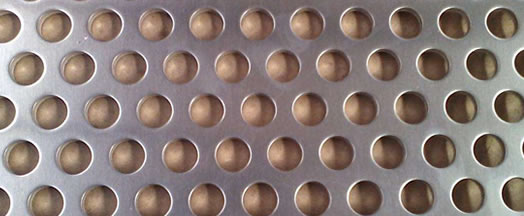 Perforated Metal Screen
Perforated metal screen is typically produced from metal sheets or coils. Perforated screen can be produced in widths up to 60" and in any length (typically under 250" for shipping purposes). Supplied either fully perforated or with margins and/or blank areas, perforated metal screen can be produced to meet your design and production requirements.
Perforated metal screen can control the passage of air, liquid, light, solids, heat, electromagnetic waves,
and sound waves and they are often found in the following applications:
Dryer drums
Speaker covers
Automotive grills
Exhaust components
Airplane engine silencers
Grain dryers
Microwave ovens
Computer cabinets
Window and door security screen
Architectural decorative ceilings and facades, panels, etc.
There are a number of different materials that can be perforated, though certain metals are commonly used because of their ability to satisfy a wide range of design criteria. Major material types include carbon steel, stainless steel, aluminum and some alloy.