Perforated Metal Styles
Perforated Materials:
Perforated Metal Products
Technical Terms:
Other Sheet Metals
Processing Machines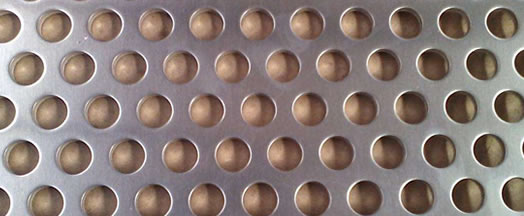 Diamond Hole Perforated Metal Panels
Diamond hole is a popular pattern for perforated metal sheets or planks. It is available in galvanised steel plates, hot dipped carbon steel panels, stainless steel or aluminium. We also supply perforated metal panels in round hole, square hole with Hole size of 0.1mm-100mm.
Diamond perforated metal sheets materials:
Low carbon steel sheets, aluminum sheets, stainless steel sheets and other materials you need.
Hole shape:
Diamond, square, circle, triangle and decorative patterns
Perforated metal sheets production process:
Die--perforating--slitting--shearing--roller--leveling--clean--packing.
Diamond perforated metal sheets specifications:
Plate
Material

Thickness of
Metal (mm)

Hole
Dia. (mm)

Pitch
(mm)

Sheet
Width (m)

Sheet
Length (m)

Porosity
(%)

Weight
(kg/m2)

Rolling
plate

0.2

6

2

1

20

44

0.88

0.35

5

4

1

20

24

2

0.45

6

3

1

20

35

2.5

0.8

3

3

1

20

19.6

3

Flat plate

0.5

1

1

1

2

19.6

3.14

0.55

1.1

2.2

1

2

22.67

3.411

0.55

1.5

2.8

1

2

26.03

3.268

0.8

1.5

1.5

1

2

19.6

5

0.8

2.0

3.4

1

2

30.78

4.465

1.5

2

2

1

2

19.6

9.4

1.5

5.0

8.0

1

2

35.39

7.843

3

5

16

1

2

19.6

18.8

Stainless
steel plate

0.5

1

1

1

2

19.6

3.14

0.8

1.5

1.5

1

2

19.6

5

1

2

2

1

2

19.6

6.28

2

5

16

1

2

19.6

6.28

Aluminum
plate

0.5

1

1

1

2

19.6

1.08

0.8

3

3

1

2

19.6

1.72

1.6

2

2

1

2

19.6

3.24

3

4

16

1

2

19.6

4.23

Stainless Steel Perforated Metal Panels for Architectural Decoration

Decorative Perforated Wire Mesh Grilles in Aluminum

Perforated Architectural Wire Mesh Used as Stair Fencing