Perforated Metal Styles
Perforated Materials:
Perforated Metal Products
Technical Terms:
Other Sheet Metals
Processing Machines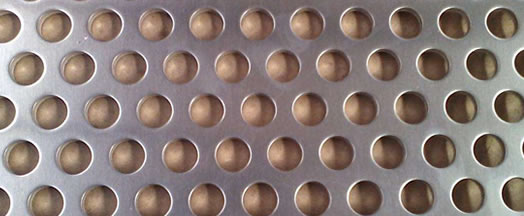 Perforated Stainless Steel Air Curtain Screen
Hengda offers modular stainless steel perforated sheets for air curtains used as intake screen and protective shielding panels.

Our perforated metals can work with door air curtains, refrigeration air curtains, cooling and heating blow curtains, and various air diffusing system.
Features:
1.Slim all metal intake screen with esthetic curved design.
2. Full metal perforated stainless steel material requiring minimal maintenance.
3. Easy installation and cleaning.
4. Custom design to meet individual requirements.
Stainless Steel Perforated Sheet for Air Curtains are made of various hole patterns and sheet thickness.
Hole Patterns: Round hole, square hole, oblong or slot hole, hexagonal hole, decorative hole.
Sheet thickness: 0.2 to 2mm for stainless steel punched plate.
Air In-taking Screen Typical Hole Patterns:

Round Hole

Square Hole

Oblong Hole
Specification:
SS 304 Perforated Metal for Air System:
Material
thickness
Aperture
hole spacing
wide
length
punching rate
weight
(mm)
(mm)
(mm)
(m)
(m)
(%)
(kg/m2)
Coil sheet
0.2
6
2
1
20
44
0.88
0.35
5
4
1
20
24
2
0.45
6
3
1
20
35
2.5
0.8
3
3
1
20
19.6
3
Flat sheet
0.5
1
1
1
2
19.6
3.14
0.8
1.5
1.5
1
2
19.6
5
1.5
2
2
1
2
19.6
9.4
3
5
16
1
2
19.6
18.8
Heavy plate
0.5
1
1
1
2
19.6
3.14
0.8
1.5
1.5
1
2
19.6
5
1
2
2
1
2
19.6
6.28
2
5
16
1
2
19.6
6.28