Perforated Metal Styles
Perforated Materials:
Perforated Metal Products
Technical Terms:
Other Sheet Metals
Processing Machines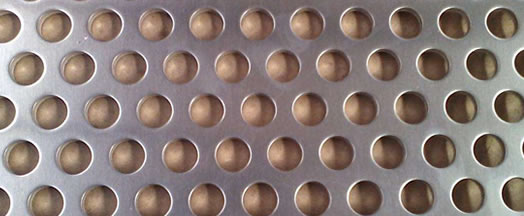 Perforated Metal Disc Filters
Perforated metals can be made with precise mesh openings and not easy for changing shapes. This feature makes perforated sheet popular for making of rigid filter discs, cylinders, filter element support metal pipe and perforated test sieves.
Hengda offers perforated metal discs and perforated plate sieves of a wide range of sizes. The thickness of the disc filter is normally 0.5--2.5mm. Aperture goes from 0.6mm to 10mm for applications of various grades of filtration and sieve meshes. Hengda perforated discs can be made in size as base sieve mesh cloth, then mounted with a frame to form a metal mesh sieve.
We can supply perforated sheet filter in round disc, square sheet and special sheet shapes. Hengda also offer woven wire mesh filter disc packs with single layer, double layer or multilayer welded. The disc filters are offered with frame or without for your option. A range of filtration and materials available both for perforated metal discs and wire mesh discs.
Punched Hole Metal Sheet for Filter Disc Processing

Material: Stainless 304 Round Hole Mesh for Wire Mesh Filter Elements Fabrication
Used as filter mesh layer support layer
Round Hole: 8mm
40% open area
Plate Thickness: 14 ga or 3mm
Overall Diameter of plate: 3.5" OD
Rigid Metal Mesh Semi-circular Disk Drainers:
Disks and Baskets and Pipes for Filter Cartriges:
Woven wire mesh and perforated mesh filter elements: discs, baskets, cylinders
Square opening and round opening perforated metal tubes, protection tube for candle filter elements
Disc Filter Plates with Frames:

Used as standard test sieves
material: perforated ss mesh screen, square or round hole
Material:
Stainless steel 304/304L/316/316L/321/310, aluminum, brass or alloy.
Processing of perforated discs: Sheet bending, punching and welding
Hole style: Round/square or custom.
Hole Pattern: The hole are arranged in straight line or stagger line
Mesh Opening: 0.6mm--10mm
Pitch: 1mm--30mm
Perforated Plate thickness: 0.34mm--5mm
Features: Anti-corrosive, anti-abrasive, long-lasting life span, easy application, economical, etc.
Application: Perforated metal discs can be used as filters or test sieves. We also supply perforated metal cylinders or tubes to support the filter media. It can be processed into the forms of tube, cylinder, sheet and conical as filter mesh, filter cartridge, cylinder or filters for filtration in petroleum, chemical, oil cooler, food and pharmacy.
Packaging Detail: The metal discs are wrapped with PE film then cartons --wooden case /wooden pallet for cartridge-- Stretch film then wooden pallet with straps for plate--Special packing can be made according to the clients' request