Perforated Metal Styles
Perforated Materials:
Perforated Metal Products
Technical Terms:
Other Sheet Metals
Processing Machines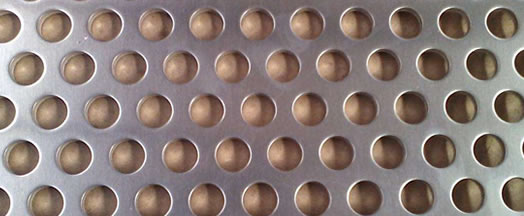 Slotted Liner
Slotted liner is actually a kind of sand control screen, chiefly used as the water and oil reservation layer for sand control. Its major function is to prevent rock pieces dropping into the water or the oil well. This type of slotted product is commonly used in sand control devices, especially useful for horizontal wells.

Working Principle: The slotted liner screen works by allowing certain particle size coming through the surface with crude oil while keeping the bigger size sand staying outside, and thereby the anti-sand purpose is achieved.

Slotting Patterns: Line slot pattern, staggered slot pattern, multiple staggered slot pattern.


Product Features:
•The slotted liner is a robust and cost-effective solution for long completions or low productivity wells.
•We offer slotted liners in wide range of slotting patters to satisfy the requirement for different open area.
•High rigidity, high intensity, excellent anti-corrosion and even distribution of pressure.
Main Technical Data:
•Material: Stainless steel, carbon steel
•Categories of pipes: petroleum casing pipe, oil pipe
•Length of pipe (single): ≤20m
•Outside diameter of pipe: 10 to 660mm
•OD Tolerance: D<50mm,+-0.5mm ,D>50MM,+-1%
•Wall thickness ≤22mm
•Width of slot: (0.10-0.40)mm±0.03mm
•Number of slots: Custom made
•Distribution types of slots: parallel, crisscross, spiral
•Distance of slots: Custom made
•Tensile strength: 390MPA
•Yield Point: WT<16MM 245MPA, WT >16-30MM 235MPA
•Elongation: 20%

Standard we follow in production:
BS1387,API 5L, API 5CT,ASTM A53,ASTM A252,EN10217,EN10219
Please contact us today with your requirements.