Perforated Metal Styles
Perforated Materials:
Perforated Metal Products
Technical Terms:
Other Sheet Metals
Processing Machines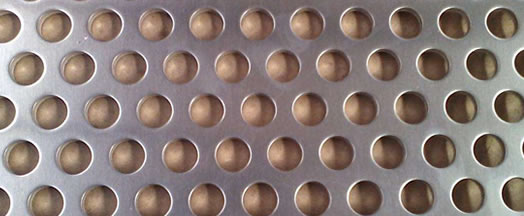 Perforated Panel Railings for Stairs, Handrails, Guardrails
We supply perforated metal guard railings of all types. Perforated Aluminum Panels Railings and Stainless Steel Railing Panels are mainly used for Balcony, Staircase, Hand Rails.
Perforated Aluminum Panels for Balconies Handrails

Materials and components:
Material: Aluminium
Finishes to Aluminium: Polyester Powder Coated.
Holes: Round hole, cross, decorative.
Size and type of perforations can be customized.
Free air area perforation: Min. 50% , or customized.
For the perforated aluminium panel railings, integral components such as handrails can be designed and produced by our experts.
Perforated Railing Panels for External Metalwork
For construction of structural metalwork used exterior such as fire escape stairs.
Materials:
All external metalworks can be supplied in marine grade metal with excellent resistance to the highly corrosive and highly humid seafront environment.
Finishes: Polyester powder coated in black, red and other colors.
Perforated Aluminium Stair Railings, BLKS A, C, E

Metal Railings Material: Polyester powder coated aluminum
Panl Height:1m
All sizes available.
Stainless Steel Railing Panels

Stainless Steel Staircase Handrails
Material Stainless steel grade 316
Height 1m (min.)
40mm diameter
Marine grade for sea shore area
Perforation: Round hole staggered
Size: can be custom
Finish to Stainless steel: Satin
Stainless Steel Deck Panel Rails with Perforated Panels
Material: Stainless Steel 304
Round pipe(Diameter): 38mm, 42mm, 51mm, 63mm
Thickness: 1.2mm, 1.5mm, 2mm, 3mm
Rectagular tube: 50*50mm, 60*60mm, 50*25mm, 40*60mm, 75*45mm
Thickness:1.2mm, 1.5mm, 2mm
Oval handrails: 80*40, 60*90mm
Thickness: 1.2mm, 1.5mm
Perforated SS Plate in Thickness 5mm, 6mm, 8mm, 10mm, 12mm,16mm, 20mm