Perforated Metal Styles
Perforated Materials:
Perforated Metal Products
Technical Terms:
Other Sheet Metals
Processing Machines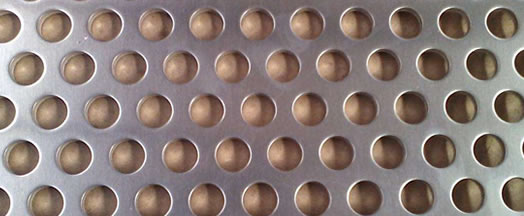 Dimple Perforated Sheet Galvanized Steel Channel Makes Ideal Metal One-Piece Plank Type Channel Grating
Dimples perforated sheets offer an universal walking floor for industrial and common building uses. Perforated metal sheets are one-piece metal plank punched with uniform small dimples. The uniform pattern and serrated anti-slippery texture make an ideal flooring surface of safety walkway and stair treads.
Uses: With excellent strength, economic cost, the perforated dimpled sheets are used widely in construction of various industrial flooring, catwalks, platforms, stairs, grills, grates, fencing, machinery grate guards, ventilation grids and many more applications.
Varieties:
Steel perforated dimpled sheet;
Aluminum sheet with small dimple embossing patterns;
Hot dipped galvanized mild steel perforated panels.
Feature:
Dimpled perforated metal panels make safety grating planks with the following benefits:
Slip-Resistant;
Corrosion-resistance with hot dipped galvanized treated steel sheet, aluminum sheet;
Economical cost due to simple processing;
Light weight with open mesh design;
Anti-aging, Long service life;
Versatile used due to easy fabrication;
Low Maintenance cost;
High Strength-to-Weight due to the one piece metal structure;
Resistance to cutting and other benefits.