Perforated Metal Styles
Perforated Materials:
Perforated Metal Products
Technical Terms:
Other Sheet Metals
Processing Machines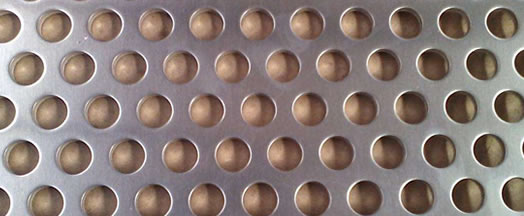 Slotted Hole Perforated Sheet
Slotted perforated metal is produced in ferrous materials in plates, stainless steel or galvanized steel.

Oblong Slotted Perforated Metal:

3.175 x 25.400 mm oblong slot
6.350 mm centers
Side Staggered
43% open
22 gauge steel
Length of oblong slots run length of sheet.

1/4" Slotted Perforated Metal:
6.350 x 38.100 mm slot
Every third bridge 4.763 mm wide
Other bridges 2.381 mm
67% open area of sheets
16, 18, 20 gauge steel
Length of slots runs width of perforated sheet.

Mesh sizes and plate thickness typical available:
Ф DE 1.2X5 D/C 7 X 7.5mm
Ф DE 2X14 D/C 14X21mm
Ф DE 2.5x20 D/C14X25mm
To:
Ф DE 5X20X D/C 16X44mm
Ф DE 8X20 D/C 25X46mm
Custom orders with gauges and sizes available.

We also supply round hole, rectangular hole, square hole, oblong hole, diamond hole, hexagonal hole, cross hole, triangular hole, oval hole perforated sheet.
We have produced and exported Perforated Metal for many years. the items are as following:
Perforated Metal:
Hole patterns: Round, Square, Slotted, Diamond
Thickness: 3.0mm, 2.0mm,
Material: Galvanised Steel, Stainless Steel and Aluminium.
Slotted Hole Sheet: 1/2" round slot ends by 3" long, staggered pattern. 10 to 16 gauge thickness, ordinary steel or galvanized. Sheet size minimum 3 feet by 4 feet. Material will be used to fabricate bilge strainers, flow rate requirements.
slotted stainless (316) steel sheet
The size of the holes need to be auound 25mm long and 3mm wide in a staggered format. Spacing between the hols can be around 4mm
The sheet size needs to be 1220mm X 2440mm.
3.175 x 25.4mm oblong slotted at 6.35mm centre's overall size of 400mm x 200mm.
6061-T6 .030 THK.
Hole size slot 0.0820 x .1640.
16 gauge
1/8" 1" round end slots
Side stagger
slots oriented to long dimension.
stainless steel slotted hole perforated sheet 2mm thickness and the holes/perforation are 25x2mm big.

oblong holes aluminum perforated sheet with slotted-Slotted Hole 1060 Aluminium Perforated Sheets
slotted hole stainless steel sheet in the following specs:

16 gauge sheet; 12" W x 24" L
Round end staggered slots = .125 (1/8") lot width by 3/4" slot length (or 1" length if easier / less expensive)
End Bar - 1/8"
side bar - 1/8".
slotted perforated sheets. The specifications for the required hole dimensions are: slot thickness - 0.24 inches(6.1mm), slot length - 2 inches(50.8mm) with small spacing between each slot (roughly 0.5 inches or 12mm) for a standard 10000mm x 2500mm sheet of plain steel steel or the cheapest material you have. All tolerances are to have 0.005 inches(about .13mm).
36"x120" carbon steel sheet perforated with 1/4"x 2" slotted holes, in straight lines. Hole pattern can have rounded or square ends. Minimum of 12 gauge thickness of material.
perforated aluminium sheeting with circular, square & slotted lozenge patterns (in varying hole sizes & pitches if possible).