Perforated Metal Styles
Perforated Materials:
Perforated Metal Products
Technical Terms:
Other Sheet Metals
Processing Machines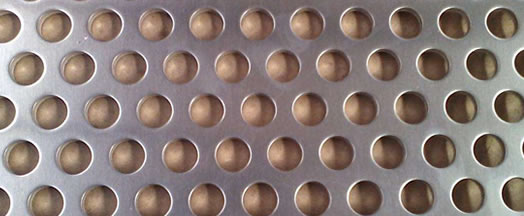 Slotted Hole Perforated Sheet
Slotted perforated metal is produced in ferrous materials in plates, stainless steel or galvanized steel.

Oblong Slotted Perforated Metal:

3.175 x 25.400 mm oblong slot
6.350 mm centers
Side Staggered
43% open
22 gauge steel
Length of oblong slots run length of sheet.

1/4" Slotted Perforated Metal:
6.350 x 38.100 mm slot
Every third bridge 4.763 mm wide
Other bridges 2.381 mm
67% open area of sheets
16, 18, 20 gauge steel
Length of slots runs width of perforated sheet.

Mesh sizes and plate thickness typical available:
Ф DE 1.2X5 D/C 7 X 7.5mm
Ф DE 2X14 D/C 14X21mm
Ф DE 2.5x20 D/C14X25mm
To:
Ф DE 5X20X D/C 16X44mm
Ф DE 8X20 D/C 25X46mm
Custom orders with gauges and sizes available.